Following the success last year's Festival of the Espresso Martini, gods of boozy coffee - Mr Black, are bringing the event back, bigger and...
The carousel of Netflix shows keeps on turning, with old treasures leaving with final seasons and new favourites being born from Netflix's ever-alive creative...
We've all set up goals and struggled through obstacles throughout our careers and years of schooling. And sometimes it's helpful to have a helping...
If you're looking for a holiday that is unique and magical, these hidden islands boast adventures that not many have yet to...
I've been around for long enough to remember the spirit with which Murray Tyrrell would inevitably declare each Hunter Valley season as The Vintage...
A bizarre thought occurred to me a few days ago, during one of my frequent idle lapses. I stared at my calendar and released...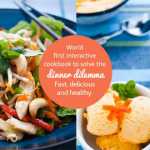 CrowdInk had the chance to sit down (virtually) with Jodie Blight, creator of the award-winning Hello Table App. She has some phenomenal advice on...
Stop serving your friends party pies, sausage rolls, and fairy bread at your get-togethers. They're not five years old anymore, and you've got more...