Picking a place to eat seems to always be a hassle. Look no further; we've created a list with the best places for you:
1. Flora & Fauna – 70 Aberdeen Street, Northbridge, Perth, WA
This radiant-looking brunch has been rated one of the top outings in Perth!  Whether its vegan nachos, coconut curry, or vegan mac & cheese, this menu definitely won't disappoint!
2. Gypsy Hideout – 68 High Street, Northcote, Melbourne VIC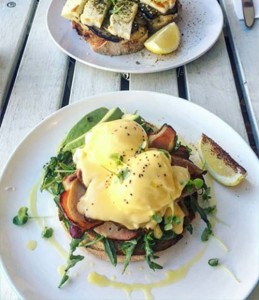 This cute little café is vibrant, with fresh-whitewashed walls and great coffee.
3. Blackwood Pantry – 5/33 Surf Ln, Cronulla NSW
This is like something I've never seen before. The menu this place has is incredible. Take a look at their Instagram and I guarantee you'll want to head there straight away.
4. Little Freckles Health Hut – Sh 4/34 Currumbin Creek Rd, Currumbin QLD
There is nothing like some fresh breakfast to escape the hot weather. This fresh menu is sure to cool you down. They have great juices too!
5. Pillar of Salt – 541 Church St, Richmond, Melbourne VIC
This place screams YUM! Just look at these pancakes!
6. The Moseley Bar & Kitchen – 11 Moseley Square, Glenelg SA
Mmmm this Spiced Quinoa Porridge looks so tasty! This place has an ever-changing menu; meaning great new breakfast treats all the time.
7. Gerard's Bistro – 14/15 James St, Fortitude Valley QLD
Rosewater Rice Pudding with Berries and Pistachio – need I say more?
8. Pickle in the Middle – 134 Unley Rd, Unley SA
Their menu is full of 'plant-centric food' with lots of fresh bowls and fruits.
9. Wild Pear Café – 658 Old Northern Rd, Dural NSW
With a lovely country vibe, this laidback cafe is surrounded by huge homesteads and lots of leafy greenery. It's the perfect backdrop for breakfast!
10. Rawgasm Paleo Café & Juice Bar – 38 Smith Street, Darwin, NT
Paleo lovers this place is a must try! The food looks so good, and you won't feel guilty eating here!
Where do you think is missing from the list? Share your favourite places below: