In an ever-growing melting pot of multicultural on-screen relationships, we often blindly accept the plotline of such films to be tropes of racial tension. Movies like Guess Who, starring Bernie Mac as a father furious over his African-American daughter Zoe Saldana marrying Caucasian Ashton Kutcher, or Something New where we watch a white man convince his African-American love interest to take out her weave to be more 'true' to herself, we need some refreshing rom-coms that focus on the sometimes more important plotline: people simply falling in love.
It is not that stories of the truthful issues interracial couples face like the backlash from family members shouldn't be told, but is that the only story we can come up with when writing movie couples with different backgrounds? We certainly aren't a colorblind culture – and we shouldn't pretend to be – but does every movie with an interracial couple always need to have a racist grandparent? Let's try a little harder Hollywood.
Below are a few films that show interracial couples without obsessively reminding audience members of that same fact. These movies allow two people to navigate the trials and tribulations of a relationship without constantly pointing out their difference in skin color.
Hitch
Cuban-American Eva Mendes and African-American Will Smith fall in love in this hilarious romantic comedy set in New York City. Also snarky super(not)heroes. Yes, please.
The Wedding Planner
The perfectionist wedding planner of a ritzy couple ends up falling in love with the groom. The eventual love affair of Latina Jennifer Lopez and Caucasian Matthew McConaughey is an important rom-com to list in contrast to Lopez's stereotypical turn in Maid in Manhattan; a film that saw her cast as a low-income single-mother working as a cleaner in a NYC hotel who only lands the dude by pretending she's rich. Yuck.
Cinderella
Though the best thing about this live-action Cinderella remake is undoubtedly the casting of Whitney Houston as the fairy godmother, how about the fact Cinderella is African-American and Prince Charming is Asian-American. The 'blissfully multi-ethnic' cast was the #1 show of the week when it premiered to 60 million viewers! Take that, boring blonde Cinderella!
Love Actually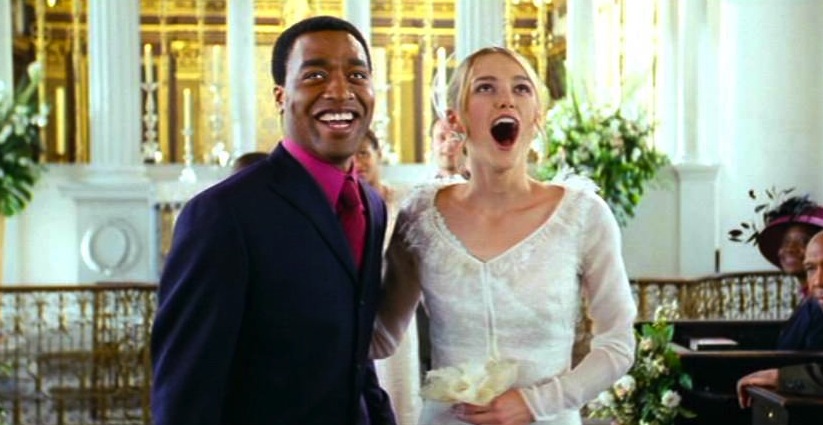 With several interracial couples to boast, Love Actually seamlessly weaves together multi-story lines and even more ethnicities.
I Love You Man
The wife-to-be of adorkable Paul Rudd in I Love You Man, is Rashida Jones. IRL, Jones is the biracial child of music producer Quincy Jones and actress Peggy Lipton. Important to note, as a silly reporter, clearly did not when she commented how 'tan' and 'tropical' Rashida looked on the red carpet. Rashida, always a classy lady, burst out laughing and corrected with a smile, "You know I'm ethnic right?"