What do a transgender Olympic athlete, 80's sitcom star, R&B singer, and George W. Bush have in common?
The aftermath of an apparent orgy.
Yep, you read that correctly and I am just as confused as you are.
In Kanye West's latest music video, he skips past the rap-video staple of curvy women writhing around in skimpy metallic bikinis and goes straight post-sex.
He is not, however, surrounded by hip-hop honeys, but rather a who's who list of today's pop culture.
Anna Wintour, Donald Trump, Rihanna, Chris Brown, Taylor Swift, Caitlyn Jenner, Kim Kardashian, Bill Cosby, George W. Bush, Ray J, and Amber Rose all won a coveted spot under Kanye's covers.
Some of the most recognizable people on the planet, they all share a six-degrees link to Kanye.
Rihanna and Chris Brown have collaborated with West.
Kim K and Amber Rose are linked romantically.
Jenner is now related by marriage.
Wintour is a mentor and friend.
Both Bush and Swift shared less than pleasant live-TV moments with the self-proclaimed musical genius.
"Imma let you finish but…" and "George Bush doesn't care about black people".
And as far as we're concerned Trump and Cosby are included because they are controversial, but also liked by Kanye.
While the video has been received by pretty tepid reviews at best, Lena Dunham voiced her opinion strongly against it.
She calls the video sickening and notes how all the female bodies look "twisted," "drugged," and "thrown aside at a rager."
Dunham further argues that the video, is "informed and inspired by the aspects of our culture that make women feel unsafe even in their own beds, in their own bodies."
Not one to shy away from nudity or envelope-pushing subject matter, it seems important to note that a video featuring both was received so negatively from the Girls star.
The artist responsible for inspiring the Famous video, Vincent Desiderio, however, begs to differ. He argues that, "Artists are not saints." and  "They're not people whose first obligation is moral correctness."
Regardless of what side you stand on, it seems hard to argue that using nude wax-figures of people without their consent is somehow inherently wrong.
While artist Desiderio isn't completely off-base with his general assessment of artists and their "obligation," to "moral correctness," Kanye is not just an artist, he is an icon.
Millions of young fans look up to him, and the message his video is sending to them, especially young women, is that consent doesn't matter.
His video, whether he intended it or not, is a classic example of rape culture.
Taylor Swift won't let Kanye see her naked? No worries, he'll just broadcast a naked carbon-copy of her around the world.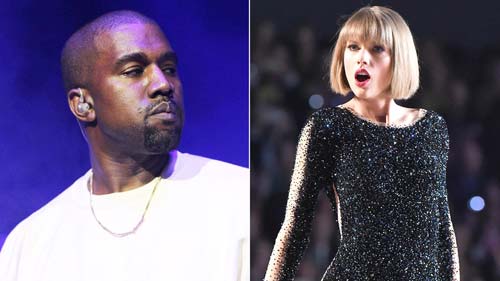 He took away the rights of the women in the video to make a decision about their sexuality the second he exposed their breasts without their approval and called it art.
It also shouldn't be ignored that of all the notable men in the world, West chose: a convicted felon of domestic abuse, a presidential candidate who believes women should be punished for getting abortions, and a man on trial for the sexual abuse of more than 50 women.
Putting these important feminist figures in bed with them was a conscious choice, and to add insult to injury, he took their clothes too.
They didn't get a chance to say no: that doesn't make you an artist it makes you an a**hole.