The newest restaurant to hit South Yarra is about to rock your world.
Hilarious puns aside, Rock Sugar, is a mecca of seriously delicious eats that needs to be on your radar.
The brainchild of Owner Nikon Souphan, Chef Kam McManamey and Manager Simon Tammesild, Rock Sugar promises a memorable experience from the moment you step in the door.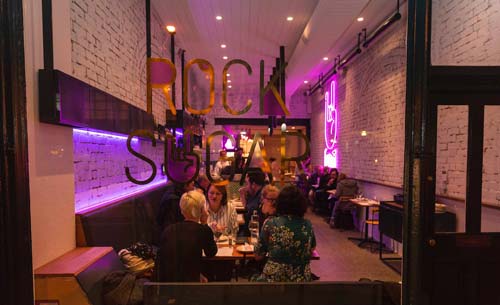 Basked in the glow of a giant purple neon-light 'rock on' symbol, take a seat in the white exposed brick interior and get started with a 'rocktail.'
The signature drinks at this chic eatery take a detour from been-there-done-that Moscow Mules or Mojitos. Instead try a Chilli Chocolate Martini or Thai Basil Smash served in bubble tea cups stamped with their signature fuchsia and purple 'rock on' emblem.
Feeling playful?
Order the whimsical Fairy Floss Martini and try not to smile like a kid in a candy store when you're given a glass piled high with fluffy cotton candy and a science beaker filled with citrus mixed vodka. If only they served this drink in chemistry instead of tests.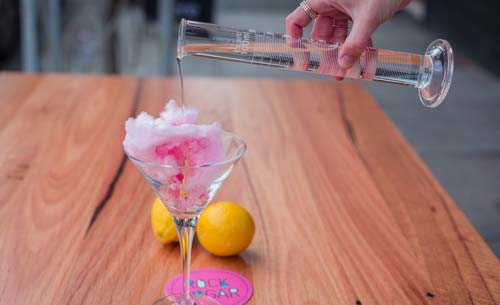 Pour the beaker over your mountain of sweet fairy floss to melt it into a delectable – and perfectly Instagrammable – sweet drink.
If you came for cocktails, you will undoubtedly stay for the food.
Under the direction of "main man of Melbourne Thai Street Food" Chef McManamey, the kitchen is dishing out Thai-inspired meals with surprising modern twists.
As owner Nik explained, "I want to keep the traditional flavors, but make it more fun."
You won't find Pad Thai on Rock Sugar's menu, but you won't miss it.
Start with a few 'Singles' items like the Smoked Trout Betel Leaf or Grilled Whole Prawns then move on to 'Small Shares' like melt in your mouth Beef Short Ribs or Lamb Curry Spring Rolls.
Better yet, change all those 'ors' into 'ands.' Just order them all.
The curry selection features a distinctly unique vegetarian Sour Orange Curry with pumpkin and eggplant that will leave even the most loyal meat lovers happy.
And for those livin' the gluten free life, rejoice! Almost the entire menu is gluten free, and features quite a few vegan and vegetarian options as well.
The list of glorious eats goes on and on, but if you're too tired – or 'rocked' – to make the difficult decision between Cured King Fish or Fish Cakes, just let their adorable mascot Phi Phi take care of the night with the 'Feed Me Right Meow!' option of 7-courses of the chef's picks for the night.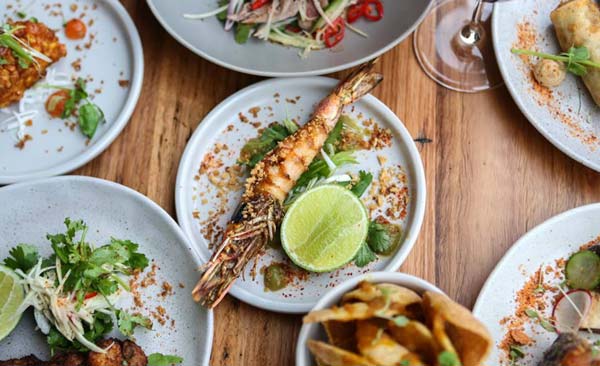 Save room for their house-made doughnuts or hopefully find yourself lucky enough to go on a night with a dessert special.
Mine was Creme Caramel seasoned with exotic flavors like turmeric, cinnamon, and coconut topped with rice paper crisps. Simply divine.
If that didn't sell you, did I mention they play early '90s and '2000s hip-hop, R&B, and rap from open to close?
You're welcome.
So come on in, let Ashanti and Ja-Rule bring you back to simpler times and dive into some spicy Jungle Curry for a guaranteed good night.
Rock Sugar is open Wed-Sun, 5pm-Late on 477 Malvern Road in South Yarra.