CrowdInk had the opportunity to sit down with Wei Tham, founder of Coast Candle Sydney, to talk about storytelling through scents, the challenges of marketing for small businesses, and how this petite candle company is making a big impact in empowering women on an international scale.
CrowdInk: What was the inspiration behind Coast Candle Sydney?
Wei Tham: Well, I'm a candle lover myself. I love scents and always have. Perfumes, body oils, aromatherapy – you name it! I just have a passion for smells and the stories they tell. I went for a class about a year ago with a friend. We had no idea that that first class would take us on this journey. The business came about organically, as a product of a personal passion.
CI: What makes your candles different from others in the market?
WT: In addition to being soy-based and having wooden wicks that create a pleasant crackling sound, I try to capture moments in each candle I create. We connect candles to stories in order to remind our customers that life is valuable. We tend to forget that while we're rushing around, noses in our phones. Whether our customers are returning from a journey abroad or have been in one place, but need a moment to dream about foreign sands, our candles take them there. It's storytelling through scent.
Our candles are also about educating customers on the natural beauty all around them. Our Beach Collection is a fabulous example of this. From Monte Carlo to Tahiti to Langkawi to Maldives, lighting one of our candles exposes customers to a new pallet of smells that tell them something essential about a place they may never have physically visited.
This business isn't just about making money. Each candle is crafted on my time, as a product of my creativity. There is inspiration here. We really do put the best of ourselves into each candle.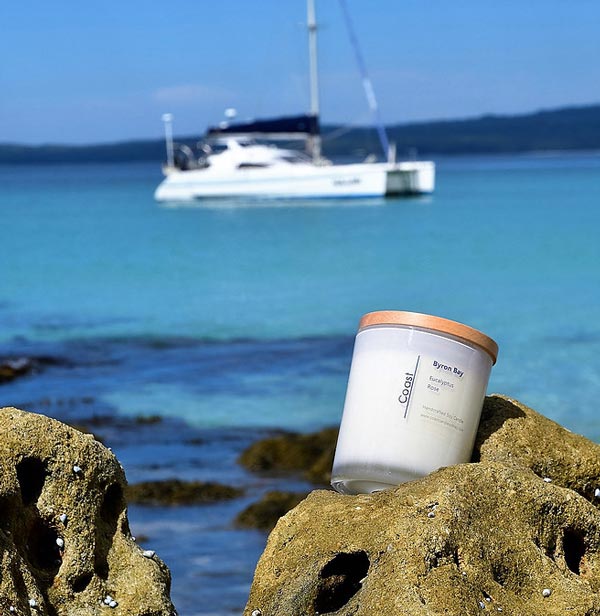 CI: What is Women for Women International?
WT: Women for Women International supports female survivors of war with tools and resources to move from crisis and poverty to stability and self-sufficiency. It's a fantastic charity that provides training to women from war-torn countries in order to help them get back into the workforce. $2 of every single one of our candles goes directly to this charity. Again, our primary motivation isn't for Coast Candle Sydney to be a money-making machine. It's about telling stories, creating a really quality product for candle-lovers, and giving back to the community.
CI: Do you have a personal favorite product?
WT: I love our Luxe Collection. The scents are quite unique, complex.  This is a result of our specially-sourced fine oils. For the most part, candle-makers in Sydney use two or three giant suppliers. We've found a really spectacular fine fragrance supplier who is able to create some really complex and subtle scents. Each one of the four candles in this collection smells like a fine perfume. They're not overpowering. The scent actually grows on you as your nose gets taken through layers of aroma.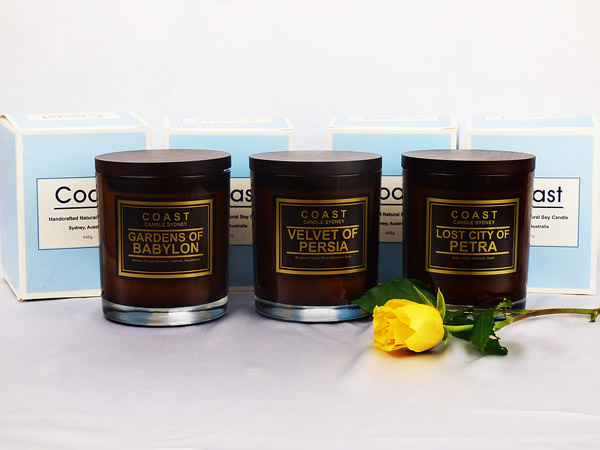 CI: What have been some of your biggest challenges on the entrepreneurial side?
WT: I love the creation part of my business. The greatest challenge really does have to be marketing. There's a lot of competition in Australia. I've just learned as much about social media as I can. I'm pretty proud of how our Instagram account has grown in the last year.
The other tricky part of running a business in Australia is getting products overseas. Our candles are almost exclusively extra large. This is important, because the greater the diameter of the candle, the stronger the scent is. I want to put out a great product, so I don't often compromise on the size. As a result, each candle weighs 1.3kg. And shipping a product of that size overseas is really quite expensive. We've had so much interest from various regions abroad and we can't wait until we're able to more efficiently accommodate that demand!
CI: Do you have any advice for aspiring entrepreneurs?
WT: Be resilient. Don't just know who your competition is, connect with them! At the moment, I'm involved in a networking group of 10 women who are all in candle-making. Each of our products are unique, but the market is similar. We learn from and bounce ideas off of each other.
And that group has been amazing for the development of my business. So, my advice? Take the risk on social media. Reach out to others in your industry and connect on Instagram, Twitter, Facebook. Be the one to take the risk and people will notice! Keep your social media profiles professional and networks will respond to you. Everyone will benefit.
CI: Do you have any plans for business growth?
WT: I have already begun to experiment with body oils and I would love to have some products in that realm featured down the track. Partly as a result of that creative experimentation, I've become even warier of what ingredients are going into all of my products. I know what's good for us and what's quite harmful for us and have decided to use all-natural essential oils in this new endeavor. Body oils are, after all, applied to the body, so it's important that we honor the health of our customers!
Check out Wei's incredible digital candle shop here and take home a wisp of absolute luxury!