CrowdInk had the chance to sit down (virtually) with Rendezvous Hotels, particularly Rendezvous Hotel Melbourne, located at 328 Flinders Street. Founded at the new location in 1913, the hotel is steeped in an elegant and lavish history overlooking the Yarra River. A representative of the hotel gave us a little insight into what modern guests can expect from a stay at the Melbourne institution.
CrowdInk: What makes Rendezvous Hotel Melbourne different from other accommodations in Melbourne?
Rendezvous Hotel Melbourne: We really do give guests a completely personalized experience. Of course we provide wine and champagne to guests celebrating anniversaries and birthdays, but we also have the chef prepare a cake for birthdays, staff puts out candles and cards for anniversaries. We really provide an experience, rather than just a bed.
CI: Rendezvous Hotel Melbourne is noted for being a highly sought-after wedding venue. What is the process of booking and hosting a wedding with the hotel like?
RHM: It's a completely tailored wedding experience. The process is handled by a single person, like an in-house wedding planner. We accommodate intimate weddings with 8 guests and host events with up to 120 guests. We pride ourselves on our attention to detail, right from customising catering to our period decor in the ballroom and grand vestibule.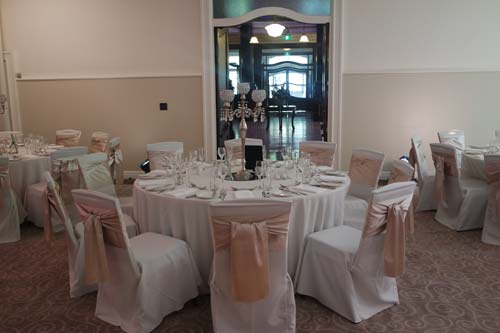 CI: We've heard a lot about the Travellers Bar. Can you tell us a little bit about that?
RHM: The Travellers Bar is a cozy and elegant establishment outfitted with high-backed leather armchairs and sandstone architecture that fit right in with the hotel itself. But its real draw is the Australian fine alcoholic beverages. We showcase wines, whiskeys, and rums from all over Australia.
CI: What is your personal favorite feature of the hotel?
RHM: Well that has to be the building itself. We celebrated our 100th anniversary in 2013 and the history of Melbourne is written right into our walls. From the stunning open architecture and wood-paneled walls of our grand vestibule, right to the small details – the stained glass windows in the most unexpected nooks of the hotel, the building is just steeped in history. The luxury and detail of the building is really the backbone of the experience. That detail falls right into how our staff interact with guests. We care about the details and realize that for each guest, those details need to be tailored to the experience they're seeking.
To plan your own experience at the Rendezvous Hotel Melbourne, click here.