Have you ever stayed at a hotel that was a little out of the ordinary? Or do you think of high rise square buildings, modern rooms, and resorts when you hear the word 'hotel'? With all of the countless hotels in the world, surprisingly, some of them have made room for a little bit of creativity and personality. So if you have a hidden interest for properties, landmarks, and architecture, these five not-so-typical hotels will sure catch your eye. These bizarre hotels have certainly taken their architecture and design skills to a whole new level.
Located on a large country acre property in the town of Durbuy near Belgium, Le Balade des Gnomes offers a hotel suite that has been constructed and built into the shape of a Trojan horse. It offers a total of ten immensely-decorated bedrooms which are inspired by nature, history and fairytales. This wood, stone, and cob crafted property was designed by the owner and architect Dominique Noel who appears to have had a strong vision.
Also known as the Son of Heaven Hotel, the Tiazni Hotel is known as one of the weirdest structures in China. The building is ten storeys high and is shaped as three Chinese gods, Fu Lu Shou (good fortune, prosperity and longevity) along with the embedding of bright colours, patterns and Chinese symbols.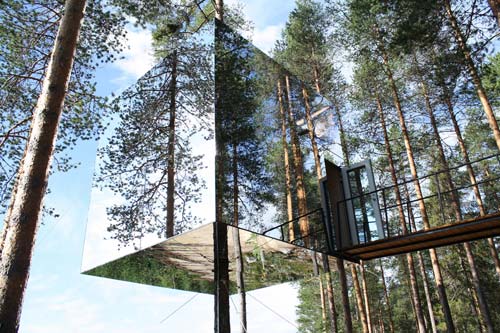 Treehotel is set within the tall pine forest with sensational views of the Lule River in Harads, Sweden. Treehotel has a total of six uniquely designed "treerooms," suspended approximately four to six metres above the ground, and all separated into their own little cosy locations. The cabin, the mirrorcube, the UFO, the blue cone, the bird's nest, and the dragonfly have all been designed and built to be their own one-of-a-kind architectural masterpieces.
With the hotel built in the shape of a beagle, the Dog Bark Park Inn hotel is known for being a famous landmark in the US state of Idaho. Husband and wife artistic duo Dennis and Francis have been situated and working here since 1997, and also create folk-art style wooden cravings onsite. If you're dog lover who loves the countryside and beauty of nature, the Dog Bark Park Inn Hotel is a must-visit.
This nature-surrounding hotel is a one of a kind design building with its volcano shape, wooden ceilings, and environmental architecture. Montana Magica Lodge Hotel is centrally located on a 300,000-acre reserve in the Patagonian Rainforest in Southern Chile, and can only be accessed via a swinging rope bridge. Those who truly appreciate nature will definitely fall in love with this unique and magical hotel.
Are there other hotels with bizarre architecture that we have missed? Share in the comments section below.