By now I'm sure many of you would have seen the new health and fitness trend that is sweeping across Australia, and if you haven't, read on and see what all of the fuss is about!
Silent Yoga Discos started making their mark in Australia when Flow Athletic decided to host an event for their 30 Days Clean participants back in February. The class received so much traction on social media that pretty soon with the support of Stylerunner and IsoWhey Wholefoods they launched an even bigger and better event at Luna Park back in April.
'The interest and positive feedback that we have been receiving about Flow After Dark has been overwhelming', says Kate Kendall, co founder of Flow Athletic.
 'We have brands approaching us wanting to be involved and we have received so many emails from people around Australia who want to participate. Due to this feedback, we are putting on an event in Melbourne in June and another one in Sydney  in July.
Here are a few things for you to know about the class.
IT'S AN EVENT
You can't get this class or atmosphere just anywhere. Flow After Dark is only hosted on certain dates and they come with activities, gift bags, samples, an electric vibe, a DJ and of course the class, not to mention that all classes have at least 350 people in them!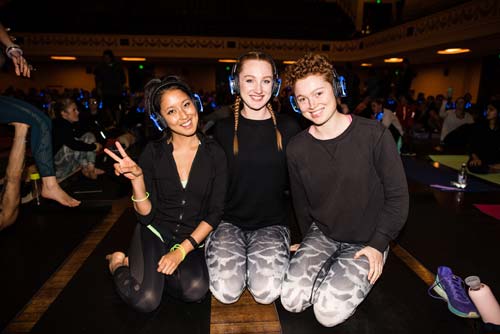 ENJOY SOME ME TIME
Have you ever felt like you just want to be alone, but you also kind of want to be around people? Silent Yoga is perfect for that!
Imagine being surrounded by a sea of people who all have the same intention as you, but you can't hear them, you just know they are there. It's the perfect class to zone out completely and enjoy some 'me' time while still feeling like you are part of something.
LOSE ALL DISTRACTION
Cities are pretty busy; needless to say that it's tough to set up a yoga studio that is completely free of the noise that the street traffic brings.
Thanks to the Silent Sounds headphones, you can now Savasana without the beeping horns, screeching breaks and loud conversations from the passers by on the street.
YOU WILL FEEL MORE CONNECTED TO THE INSTRUCTOR
When you're wearing the headphones, you will literally hear my voice whispering directly into your ear to lead you along which almost makes it feel like a private session.
You won't have to look around and strain to hear the instructions as the class is literally delivered straight through your wireless headphone to you.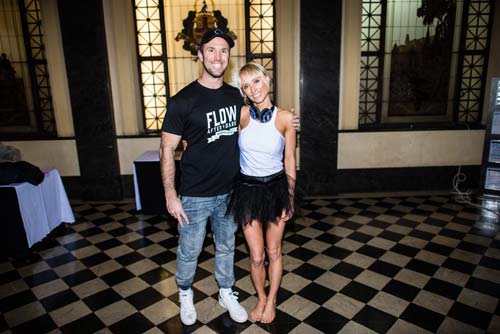 SYDNEY EVENT
Flow Athletic will be hosting the world's biggest Glow in the Dark Silent Yoga Disco in Sydney on Tuesday July 19, 2016.
The event is themed Christmas in July and it will be taking place at the Dockside Pavilion on Darling Harbour.
AVEDA and their team of celebrity stylists will be coming along to go yoga braids for guests!
Tickets: Grab your tickets here.
MELBOURNE EVENT
This will be the biggest Silent Yoga Disco for 700 guests. This event will be held on Tuesday 30 August at The Melbourne Park Function Centre.
Grab your tickets here.
GOLD COAST EVENT
This event will be held at the Southport Sharks on TUESDAY 11 October for 400 people
Grab your tickets here.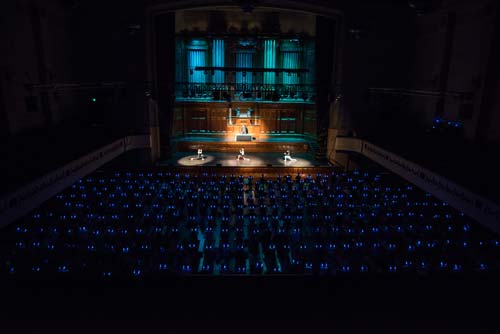 ABOUT Kate Kendall
Kate Kendall is one of Australia's favourite yoga instructors. Kate and Ben Lucas are the co-founders of popular luxe fitness and yoga studio Flow Athletic.