The Fitness & Health Expo will soon visit the Perth Convention & Exhibition Centre (August 20 & 21) and this stop on the national tour will bring with it another round of exciting new products and industry developments.
Not all of the new gym equipment and exercise classes can be revealed in advance, but here is an advanced sneak peek at some of the big developments:
Get fit, like a ninja (locally created in WA).  If you've seen the TV program American Ninja Warrior you might have some idea of what's involved. Ninja challenges, run by the Ninja Academy, test strength and coordination on a unique and challenging obstacle course.  Think Tough Mudder without the mud or the running.  The Ninja Challenge course includes obstacles like the Warped Wall, Unstable Bridge and the Salmon Ladder. Ninja Academy is all about exposing yourself to a myriad of different movement patterns that are extremely beneficial for physical and mental development.
Fitness heads online for a new generation (locally created in WA). The Kids Coach is a new series of interactive fitness videos for kids to do at home, running for 15-20mins each episode. Developed by an Occupational Therapist and a Fitness Instructor, The Kids Coach videos are designed to get children 5-10 years old up and moving using their favourite devices. With regularly updated exercise clips, The Kids Coach lets your child enjoy the fun of exercise without the pressure of onlookers or unfamiliar environments. The Kids Coach allows parents to rest easy knowing their child is learning the importance of a balanced, healthy lifestyle in a fun and exciting way.
A bright new spark in sprinting. SPARC by Cybex is a HIIT functional training tool that allows you to move in a sprint-like motion without any impact on your joints. Sprinting has always been a way to build strength, power and cardio fitness and now you can do it with less risk of injury and a faster recovery time. With three incline positions, changeable resistance and multiple hand positions, you can target your glutes, hamstrings and quads in a whole new way.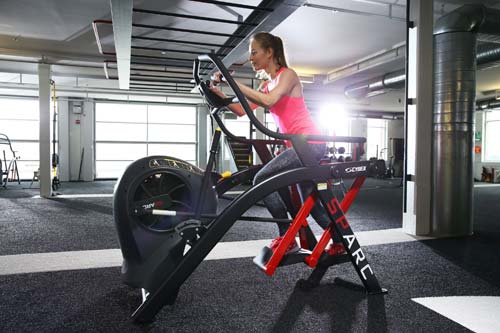 Get a jump on your protein intake (locally created and made in WA).Chewy Mooey, a local producer of beef jerky, has extended its range to include a new protein-packed line of kangaroo jerky – Chewy Rooey. This lean meat has been experiencing a rising popularity locally and internationally due to its health benefits and sustainable nature.
HIIT Me. The Matrix S Drive Performance Trainer allows you to take on the 30-second all-out sprints for high-intensity interval training (HIIT) and is designed so you can easily jump on an off as part of the fast-paced HIIT training environment. There's also a high friction brake and an integrated handhold bar to simulate pushing or pulling a weighted sled up to 122 kg.
Off the scale. Throw out the scales and step onto The EVOLT 360, which provides a quick, non-invasive measurement of your body composition simply by standing on it and gripping the handlebars. It delivers a guideline of your lean body mass, body fat mass & percentage, skeletal muscle mass, visceral fat level, fitness age and fitness score in less than two minutes.
Director of the Fitness & Health Expo Shaun Krenz said each Expo offered a new opportunity to see innovations from local suppliers, as well as the latest national and international developments in fitness.
"It never ceases to impress us how innovative this industry is. At the Perth Expo we're seeing a great range of new developments so there really is something for everyone, regardless of your age, fitness level or activity preferences."
Head to the Fitness & Health Expo to see the latest equipment and accessories, watch healthy cooking demonstrations, train with celebrity trainers and watch live sporting events.
The Fitness & Health Expo will be held August 20-21 at the Perth Convention & Exhibition Centre. It's open each day from 10am – 5pm.
For more information visit www.fitnessexpo.com.au and follow Facebook, Instagram and Twitter for updates on features, timetables and celebrities.
General visitors can pre-book tickets online to save or pay $25 at the door. If you work in the industry, entry is free if you pre-register online and provide the appropriate identification.