A music coordinator for a US radio station has just discovered a new up-and-coming artist for us to dance to and her name is *drum roll please* Annie Lennox?
Sound familiar? Well she should, because Lennox has actually been in the music industry since the mid-seventies as a member of new wave band The Tourists, lead singer for the hugely popular eighties band, Eurythmics, and as a solo performer, and has won eight Brit awards and four Grammy's, as well being nominated for another seven, throughout her career.
The way this all come about is, the unnamed radio station's "music coordinator", Kylie, emailed Lennox to say she 'came across her music online', "really liked what she heard", and then explained she 'looks for "artists who I think have potential and get them in rotation on our station"'.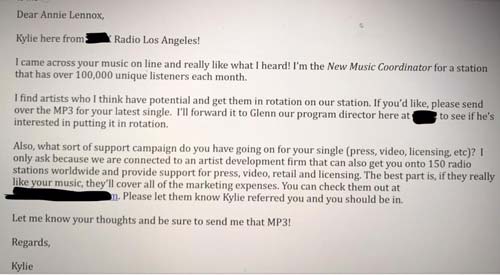 In addition to these, let's be fair, flattering comments from Kylie, she also asked Lennox to send an mp3 of her latest single to give to the station's programme director "to see if he's interested in putting it in rotation" and that they are 'connected to an artists development firm and can get her on more radio stations worldwide'.
But the real icing on the cake is Lennox's response to the email, which she posted a photo of on her Facebook page, commenting, "I think I'm in with a chance".
Clearly, Lennox has a good sense of humour about the situation and, hopefully, won't be holding this against Kylie.