You might think of Curtis Stone as nothing more than a celebrity chef who Oprah took under her wing and turned into an "overnight" sensation. Or you might think of him as the spunky Coles guy who lives in America but comes to Australia to do its ads.
Well I'm here to tell you that I think of him as the spunky Coles guy who can really cook—and has an amazing restaurant in Beverly Hills.
Curtis Stone opened Maude, a discreet 25-seat restaurant in Beverly Hills in February 2014.
The only clue you're about to walk into foodie heaven is a single-fronted grey door on the footpath of South Beverly Drive. There's nothing more than the signature "M" and a gorgeous lime tree to let those in-the-know know where they are.
The restaurant is not only intimate, it is exquisitely styled and you get a very warm feeling when you walk through the door—setting the scene for a unique experience.
Everything about it screams a twist of Australian style—from the toilets and the gorgeous coconut-scented body and hand lotion to the "party favour" raspberry tea and copy of the menu left with us as a take-away.  From the eclectic china and featuring Australian crockery given to Curtis Stone as a gift by Australia's Consulate-General Karen Lanyon, to the fact that the tip is added taking the hassle out of that pesky tipping thing that goes on here in the US.
Perfect styling & attention to detail
Walking in the polished grey door you have to take a moment to take in the meticulous styling: modern French Provincial with an enviable collection of old jugs, bowls and champagne buckets. Our table for four was big enough to accommodate five or six but the focus is on feeling comfortable rather than being sardined. There was also sufficient room between the tables so we felt like we weren't being listened to—or that we need to play "guess their backstory" with the table next door.
The staff were warm and welcoming, knowledgeable and not at all snooty as you think they could have a tendency to be at such a special place.  I imagine this is not an accident and that warm, friendly Australian way shines through so much so you'd be forgiven for thinking you were in Melbourne or Sydney.
So not LA
The food.  Oh the food.  I'm not a food writer but I am an "enjoyer of fine food, restaurants and wine".  I died and went to heaven.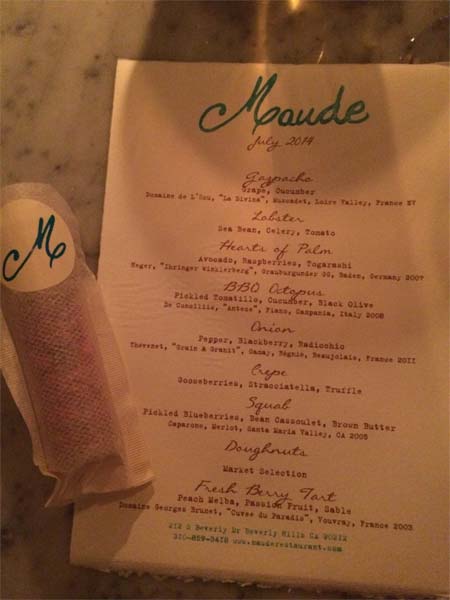 A bit like an episode from Masterchef, Curtis Stone chooses a core ingredient and prepares a nine-course tasting menu around that. The core ingredient changes monthly which is a huge undertaking by Curtis and his team to continually develop a culinary extravaganza.
You have the option to do a wine pairing or choose a bottle or two to have with your meal. We chose the wine pairing. Of course.
Our core ingredient was berries—and you'd be surprised what falls into the berry family.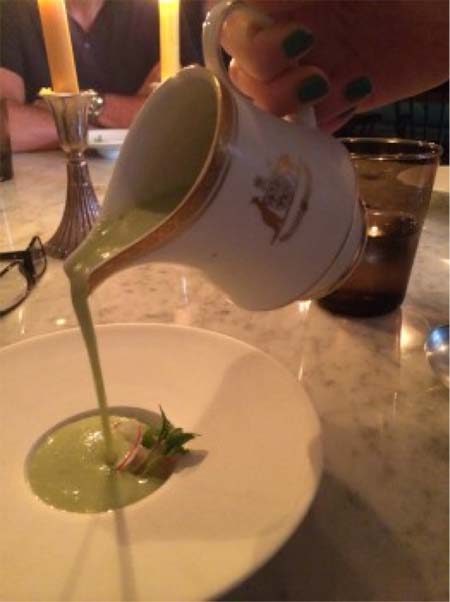 Gazpacho served from Australian-emblemed crockery
We started with Gazpacho then enjoyed a meticulously prepared lobster that was a textural delight and savoured the crepe with gooseberries, stracciatella and truffle that was one of our favourites for the evening.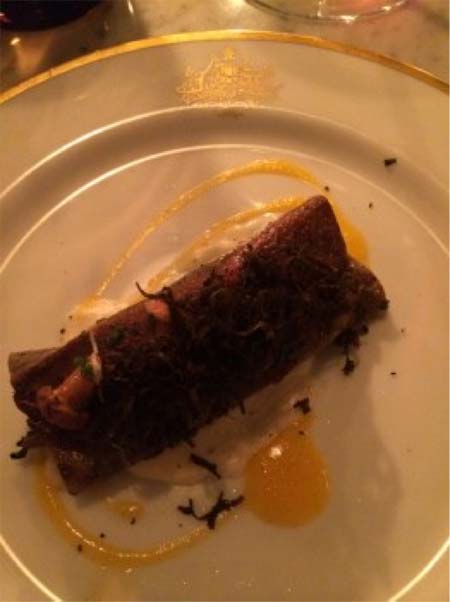 Each taste was the perfect size to savour every mouthful and hang on every bite providing multiple orgasms per round—wanting more but being satisfied with what you had.  There were lots of "oh my gods" proclaimed" that night.
At the doughnut round (three exquisite round balls one each filled with custard, strawberries and apple) we were satisfied but agreed we could go again. Naturally it was dessert so we thought we were done, truth be told we'd lost count it was so good.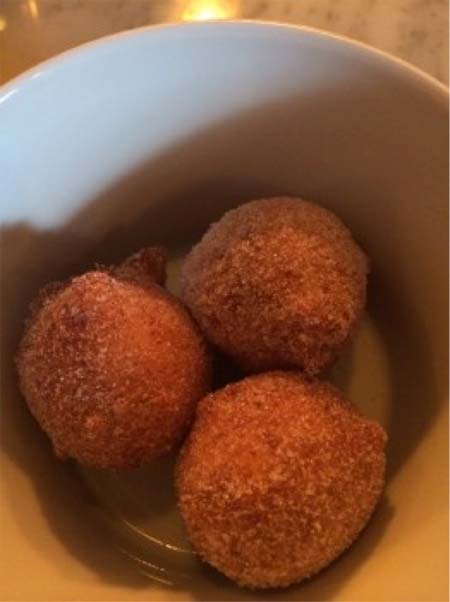 Almost as soon as we'd agreed we could have kept going (and somewhat disappointed it was all coming to an end) out comes the mouth-watering peach melba with berries and "blah, blah, blah" …  Who cares? He had us at that peach melba and we were lost for words; say what you like we had officially died and gone to heaven.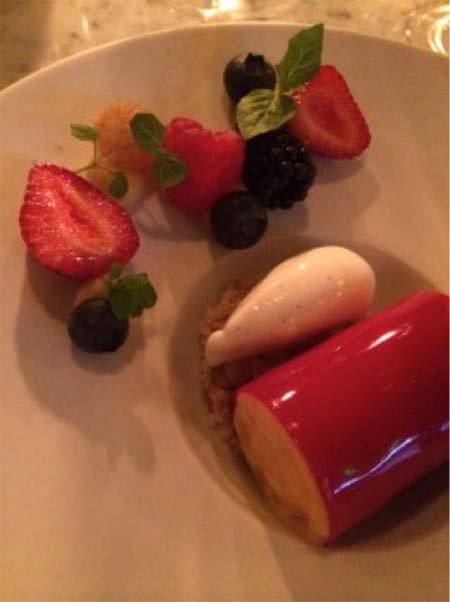 What's the catch?
There is a catch. It is so hard to get in it's not even funny. But if you know you're coming to LA and you want to check it out, plan ahead, have a couple of dates up your sleeve, set the alarm and get on the phone to book it in.
Bookings open on the first business day of the month before. So, if you want to reserve a table for December you need to ring on the first business day in November.  (See here for Maude's booking guidelines).
Bravo Curtis Stone.  He is pushing the envelope for LA Dining.  I wonder if other Australian Chefs will follow suit and bring the fresh food and flavours to LA that we miss so much from back home.  It is absolutely Ausmerican, where LA and Sydney collide to provide nothing short of perfect.
Hail Curtis Stone, the new king of LA dining.
xx It Started in LA xx
Psst: There is no Valet Parking but there is a parking station right next door and I think you should book an Uber anyway to take advantage of the wine-pairing menu.