Brrr… Melbourne's winter is on its way, but that doesn't mean you have to put the fun on ice. Forest Hill Chase's dining and entertainment precinct on Level 3 is sizzling with a variety of exciting activities things to keep everyone entertained. Whether you're looking to keep the kids active and happy during the day, or a great family night out, Forest Hill Chase Level 3 is the place to be. It all happens on 3.
 Birdies Mini Golf & Sports Bar
Unlike anything you've experienced, Melbourne's Birdies Mini Golf and Sports Bar takes mini golf to a whole new level of fun. An 18-hole course is a par-60, using professional putters and balls by TaylorMade. The all-Australian bar is unrivalled in its selection, with craft beers from 12 independent breweries, 65 gins from independent distillers and an all-Victorian wine list. A wide menu selection for outings with friends or family featuring small plates, loaded Parmas, burgers, big plates, steaks and pizzas. You can also watch AFL matches live. Perfect for a night out with friends or family activity for all ages. Australia's first Birdies Mini Golf and Sports Bar is located in the dining and entertainment precinct on Level 3 at Forest Hill Chase and is the first of 15 Birdies bars that will open around Australia. Sydney and Brisbane bars are scheduled to open in early 2022.
Available for parties, private, team building and corporate events, Birdies Mini Golf & Sports Bar offers amazing deals with a game of mini golf and drink from $28, schooners of beer are $9, espresso martinis and margaritas are $14 ($9 during Happy Hour). Dine on a burger, pizza or sizzling steak while watching a live AFL match with family and friends. Or check out the $22 Parma nights on Thursdays which include a schooner selection from 12 different tap beers for a night out with mates.
Dynamic Ninja Mania Challenge
Test your mettle with 15 levels of difficulty on this custom-made Ninja Mania course for ages 5-18 years. Show your Ninja style with challenges made popular by Australian Ninja Warrior including climbing rings, tyre swings, three-metre-high climbing wall, zip lines, peg boards, hang doors, balance reels and balance beams.
Cost: $20 for a 55-minute session or 10 sessions for $150.
Visit: www.dynamicmartialarts.com.au
Zone Bowling (Forest Hill Chase)
ZONE Bowling Forest Hill Chase has a new look that is the first of its kind in Victoria! With a breakout area linked to Timezone and a brand-new Laser Zone, this is a total fun zone!  Grab your family or friends and make your way to the alley to experience the buzz of ZONE BOWLING. They offer multi-lane ten-pin bowling for all ages, along with food and beverages, birthday parties and corporate event packages.
IG:https://www.instagram.com/zonebowlingau/
FB: https://www.facebook.com/ZONEBOWLINGForestHill
Timezone (Forest Hill Chase)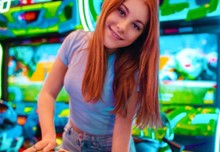 Check out the latest arcade games from around the world at Timezone! Enjoy cutting-edge games, enticing prizes, value-for-money packages and a big wallop of fun! Whether you are looking for a fun night out with friends or a safe space to spend some quality time with the kids, Timezone Forest Hill Chase ticks all the boxes. Now combined with ZONE BOWLING to double the FUN.
IG:https://www.instagram.com/Timezone/ForestHill
FB:https://www.facebook.com/TimezoneForestHill
For more information visit www.foresthillchase.com.au