Less than a year ago the hangover.clinic opened its doors in Surry Hills promising to revitalize "overindulged" Sydney-siders with IV hangover treatments.
The treatments are adored by celebrities, models and socialites alike with Rihanna, Cara Delevingne, Lily Allen, Kelly Osbourne and Rita Ora all posting pics of their IV therapy sessions on social media.
We caught up with co-founder Max Petro to find out more about the latest health craze to hit our shores.
Q1: What was your inspiration behind hangover.clinic and actIV infusion?
The idea came to me when I spent time working as a ski instructor in Australia and the US. After a night out on the après ski and schnapps, the ski patrol team would always be fresh the next morning despite the shenanigans of the previous night.  Asking how they did it, they let me in on an old ski patrol secret – IV fluids, oxygen, and painkillers to relieve the symptoms of hangovers (which they were able to administer as qualified paramedics).
That's when the hangover.clinic was born. I wanted to make IV hydration treatments available to everybody (not just doctors or paramedics), to relieve the symptoms of hangovers. Since then we've grown and have also launched a sister company called "actIV infusion" to focus on infusions that support health and fitness goals and help people keep up with their busy schedules, so not just for hangovers.
Q2: How do the treatments work?
A key cause of the symptoms of hangovers and other issues such as jetlag or sports fatigue is dehydration and vitamin depletion. Our treatments are based on the direct intravenous introduction of fluids and vitamins into the body, and IVs are the quickest way to deliver fluids and vitamins into the bloodstream. The bioavailability (i.e. absorption) of fluids and vitamins administered via IV treatment is 100%, meaning it's a much more efficient method of rehydration than simply drinking water or supplements.
Q3: What are your most popular treatments and infusions?
On the hangover side people love our "Resurrection" treatment – we've had plenty of clients say they literally feel like we've brought them back to life! On the actIV infusion side, our "actIV Myers Cocktail" is also very popular. It includes a range of vitamins and minerals including Vitamin C (which is great for immunity and collagen production for healthy skin), B Vitamins (which are great for energy), and Magnesium (which is great for improving your mood and helping with muscle cramps).
We can also do everything home service too, so people don't need to leave their lounge (or in more severe cases, their beds)!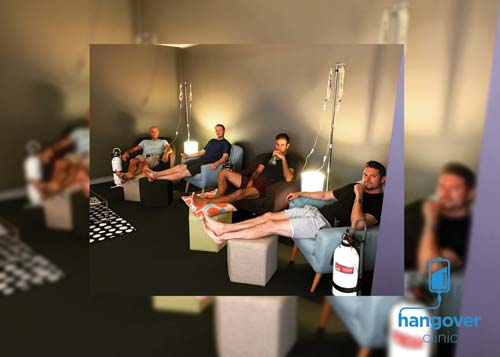 Q4: What are some of your key learnings over the last year or so?
Ha, Sydney loves to party (but I think I already knew that).
From a business perspective, the lesson that innovation is king continues to be a guiding principle for us. Introducing home service, the establishment of actIV infusion for the health/fitness market, and the launch of anti-wrinkle injections have been milestones since we opened last year. We're always listening to our customers and expanding on what we do in order to keep them happy.
Q5: What advice would you give to aspiring entrepreneurs?
Have a thick skin. Tall poppy syndrome is very much alive and well in Australia and people will always try and take you down. It comes from a sense of jealousy of your success – be open to constructive criticism and feedback but ignore the hate and focus on your business and the rest will fall into place if you're willing to put in the hard work.
Q6: How can people connect with your brands?
hangover.clinic: The hangover.clinic was the first clinic in Australia to offer intravenous infusions to help alleviate the symptoms of hangovers. Despite the initial controversy surrounding the concept, the business has proven a massive hit with the market and is continuing to grow as it comes up to its first anniversary.
actIV infusion: actIV infusion was established as a "sister company" of the hangover.clinic to cater to clients who wanted to experience the benefits of IV hydration and vitamin infusions, but were not necessarily hungover. actIV infusion aims to help clients achieve their health and fitness goals, whether it's a kick start with a new training regime, support in preparing for a marathon, or simply to keep up with our busy lifestyles. Anti-wrinkle injections, as well as lips/filler injections are also available, along with treatments to help with migraines, excessive sweating (hyperhidrosis), and teeth grinding (bruxism).
Max Petro (Co-Founder): Much to the surprise of his boss and colleagues, Max left his career as a senior corporate lawyer at Asia-Pacific's largest law firm to establish the hangover.clinic and actIV infusion with his partner. After waking up on New Year's Day with a cracking hangover, he recalled his prior experiences as a ski instructor in the US where the ski patrollers (who were qualified paramedics) would administer each other IV drips and medications after particularly raucous nights out. It took just under a year to set everything up and get all the required approvals, but since launching on 10 December 2015, the gamble is paying off with the treatments being a huge hit with the market.
Website:
Facebook:
Instagram: