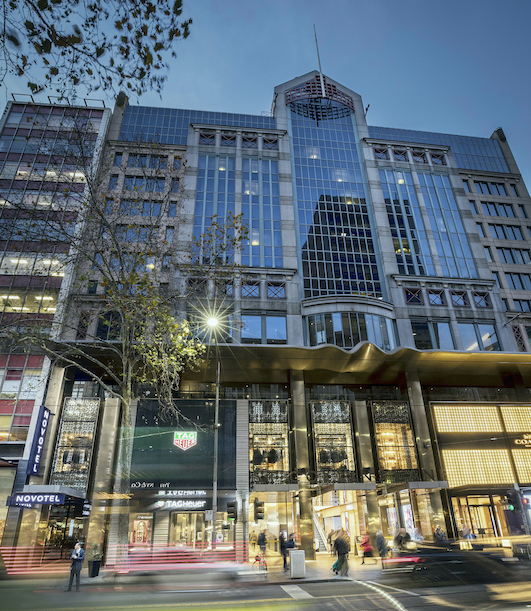 Indulge in the epitome of style and modernity at Novotel Melbourne on Collins – an
unrivalled haven of opulence in the heart of Melbourne's vibrant CBD. Discover an
unparalleled level of sophistication and impeccable service that sets this esteemed
establishment apart as the ultimate destination for discerning travellers. Prepare to
immerse yourself in a world of lavish comfort and sophisticated charm, as Novotel
Melbourne on Collins stands tall as the preeminent choice for those seeking the pinnacle
of luxury accommodations in the magnificent city of Melbourne.
In the heart of Melbourne

Nestled in the prestigious enclave of Collins Street, a treasure trove of refinement awaits
at a distinguished hotel. Perched above the illustrious St Collins Lane, a haven of haute
couture and unrivalled luxury, this opulent address serves as the epicentre of
Melbourne's sophisticated fashion scene. Step into a realm where shopping becomes an extraordinary voyage, as St Collins Lane transcends its status to become a veritable
haven of indulgence, offering not only an array of exclusive boutiques but also a
captivating ambience for culinary delights, unwinding moments, and cherished
encounters with cherished companions.
Immerse yourself in a realm where every desire is effortlessly fulfilled, for our prestigious
location grants you unfettered access to a cornucopia of captivating attractions and
cultural marvels. From the iconic Rod Laver Arena and the hallowed grounds of the
MCG to the resplendent Federation Square, the enchanting Princess and Regent
Theatres, and an abundance of awe-inspiring landmarks, Melbourne's finest offerings lie within mere moments of our esteemed establishment. Embrace the boundless
possibilities that await you, as you embark on an extraordinary journey, exploring the
tapestry of splendour that this remarkable city has to offer.
380 rooms and suites

Unwind in one of the 380 stunning, spacious rooms in the hotel. Overlooking the busy
Collins Street, or the beautiful lanterns of St Collins Lane with its floor-to-ceiling
windows, these rooms are the perfect blend of urban aesthetic and liveable comfort.
These rooms are built for any kind of stay – so whether you're there for work or for
leisure, it guarantees your comfort. Enjoy complimentary internet and LCD flat-screen
televisions that come with every room.
If you're travelling with family, spoil yourself with a family suite. This room comes with a
king bed, a chaise lounge and a dining table set, while the second room offers two single beds. Alternatively, Novotel also offers interconnecting rooms so your family can have
privacy but remain close.
The perfect meeting venue
Novotel Melbourne on Collins offers a one-of-a-kind venue for business meetings and conferences. Whether you need to hold a sales meeting, product presentation, training seminar, banquet, or anything else, one of our eight flexible conference and function
venues will be perfect for you. They all feature state-of-the-art conference technology and complimentary internet. Additionally, at every step, Novotel Melbourne on Collins sales and catering teams are available to assist you with anything you may need – from planning to executing your event.
Overlook Melbourne's iconic Collins Street over dinner!

Let Lane Restaurant and Bar bring Melbourne to you and showcase local seasonal
produce and food trends. If you want to experience the city without leaving the comfort
of the hotel, this is the perfect dinner option for you – the restaurant overlooks the
stunning, tree-lined sidewalks of Collins Street, so you can enjoy a meal with a view.
Feast on a full buffet breakfast, or select from the breakfast menu in the morning, and
return at any time to enjoy a light meal and a drink at Lane Bar.
A hotel for any kind of trip 
A haven of sophistication and timeless beauty for discerning travellers of every pursuit
and desire.
Whether you're in Melbourne for a work trip, away for a romantic weekend, or on a
family holiday, Novotel Melbourne on Collins is the hotel for you. Surrender to the allure
of this cosmopolitan paradise, where the finest dining, shopping, and artistic experiences
await at every turn.
Get rewarded for your stay!
Members of Accor Live Limitless receive an automatic 5% discount off the rate of the
day! This amazing bonus is not only available at Novotel on Collins, but also available at
all hotels within Accor Hotels.