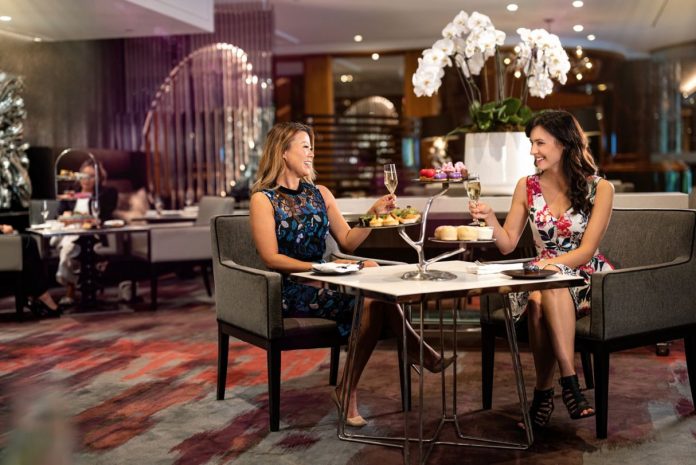 Feast your eyes and tastebuds on the best drinks Sydney has to offer.
With its magical two-story glass atrium roof, botanical-inspired design and sleek monochrome silver-tinged décor, The Conservatory bar at the Sheraton Grand Sydney Hyde Park is the place to be for your next night out. With cozy booths and corners, an incredible glass bar centrepiece and an outdoor terrace that boasts a stunning view of Hyde Park, it's the perfect destination for anyone looking to start or end a night in Sydney.
And all this before we even get to the drinks. Whatever mood you're in, whatever the occasion or whatever the company – there is something for everyone to enjoy, with a range of the highest-quality wines, craft beers and gins, not to mention the decadent selection of cocktails. The Conservatory also places a focus on supporting Australian businesses, with local wine and spirit makers making up the bar menu and local ingredients incorporated in both their food and drinks.
We were lucky enough to be invited to The Conservatory to sample (read: devour) three of the cocktails from their extensive menu, and it's safe to say we weren't disappointed.
Citrus Soul-Lantern
This drink is the ultimate crowd-pleasing party-starter. Featuring a strong but smooth combination of white rum, Licor 43, agave and bitters, the Citrus Soul-Lantern is a perfect blend of sweet and bitter. The icing on the cake is the lime boat of absinthe that turns into quite the show-stopping garnish upon ignition and adds some literal fire to the drink. Grab a round of these and you'll be starting your night out right.
Midnight Slipper
While on the tamer side when compared to the Citrus Soul-Lantern, the Midnight Slipper is no less delectable. A refreshing blend of Cointreau, gin, lavender syrup and maraschino cherry syrup, this cocktail – which comes in a gorgeous deep red-purple shade – achieves a perfect balance between fruity and floral, with the cherry, orange and lavender flavours combining to create a glass of sweet botanical nectar you'll be sad to see empty.
Autumn Lemon Meringue
Don't be fooled by the name – this drink will please both dessert fans and those who are sans-sweet tooth. A tangy mix of Limoncello, Cointreau, vodka and lemon juice (plus the obligatory egg white for the meringue effect), the Autumn Lemon Meringue goes down as a sprightly citrus delight that packs just enough of a boozy punch. The cinnamon and peychauds bitter artwork on top alone makes it a top pick.
The Verdict
The Conservatory's incredible cocktails will make your Instagram followers jealous and your tastebuds very happy all at once. It's well worth visiting for even a single drink, and with the bar sitting in prime position within Sydney's CBD, what excuse do you have not to?