For those of us who are trying to 'go green,' India just set a mind-boggling precedent for what we have to live up to.
On Monday, July 11th, after planting nearly 50 million trees in 24 hours, India has achieved a world record and set the tone for the world climate on environmental sustainability.
In efforts to show initiative towards the $6 billion commitment pledged to reforesting India, 800,000 volunteers from the Uttar Pradesh region worked through the day and night to plant the most trees in history at one time.
After signing the Paris Climate Agreement on Earth Day, India has made the first big step towards its plans to reforest 12% of the country and reduce pollution.
Chief Minister Akhilesh Yadar of Uttar Pradesh rightfully concluded, "The world has realized that serious efforts are needed to reduce carbon emissions to mitigate the effects of global climate change."
The tree saplings came from almost 1,000 nurseries that were sourced locally and included over 80 species. They were planted everywhere from railroads to highways to forests.
Though the sheer number of trees is astounding, there has been concern over the mortality rate of the saplings in regards to watering and disease without constant care. It is estimated there will be a 40% mortality rate, even with the new plants being monitored by aerial photograph.
Regardless of the suggested mortality rate, that still accounts for approximately 30 million new trees surviving.
Woo-hoo!
Claiming six of the world's top ten most polluted cities as their own, this new world record for India is creating a much more favorable image.
India's alarming air pollution could be greatly decreased if these tree planting efforts continue. As the trees remove toxins from the atmosphere hopefully some of India's 1.25 billion people can get a breath of fresh air.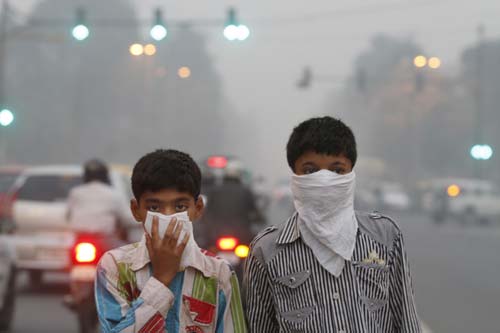 With such a large gesture, India has put itself on the global map towards reducing our carbon footprint, and issued a friendly challenge to the rest of the nations of the world.
Imagine if nations were competing to see who could plant the most trees rather than make the most money?
"50 million trees? I'll take that and raise you 100!"
Your move, Australia.