A hole in the wall down Swanston's neighbouring restaurants and stores that pays an ode to a butcher's shop with a curved window opening, Chop Shop stands out like a very good sore thumb for curious eyes. Only in it's first month of opening, it pays homage to the ever so popularised Korean BBQ with it's own touch of something that's totally different.
Once inside, the narrow entrance slithers down past an open kitchen area to the left and seats on the right, table tops with open grills and pale blue seats reminiscent of those on merry-go-rounds. With a rather dark and mysterious first floor, sconces run down the length of the wall to brighten the interior, but the real breadwinner of the restaurant is the bright red neon sign that reads 'CHOP SHOP KOREA'. You probably won't miss it, but there's also a very red meat cutting machine that you'll pass by.
One mustn't miss the meat fridge that's been carefully designed and placed to emphasis Chop Shop's philosophy and pride. The restaurant expands up to five floors, with a spiralling staircase that showcases a different design each time – a grayscale landscape wallpaper etched across the second floor and an entirely changed wooden and a more minimalistically Melbourne feel to the third, with another neon sign that blares the words 'MEAT EAT REPEAT'. The fourth and fifth floors remain uninhabited during the day, but the purple and blue hazed lights bring great curiousity to all new comers. Ambiance always makes or breaks a first impression, and Chop Shop really knows how to tap into the needs and wants of visitors while staying rooted to relatively authentic Korean cuisine.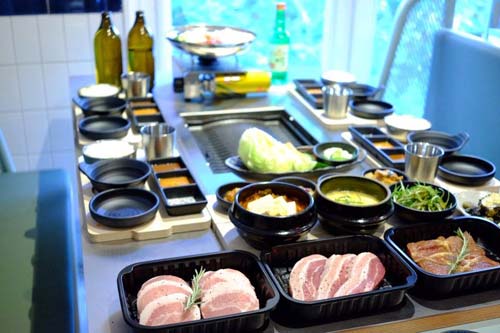 The menu itself is a variety it itself that's mouth-watering and unique, a selection that consists of everything from cold buckwheat noodles to salmon rice – there's definitely something for everyone. A honourable mention to the lunch special, which seems to be extremely popular – a considerable set menu for a company of two which also finishes off with Chop Shop's own specially made and wrapped ice-creams. Drinks also go from Korean soju to wine; whatever is fancied will go a long way to making the meal a more fruitful one.
Step inside; you won't regret it – if you need a bit of encouragement, even the floor tiles outside will entice you with two words: MEAT HERE!
Chop Shop Korean BBQ
261 Swanston Street, Melbourne CBD
Tel: 0406 712 475
Open: Sun – Wed 11:30AM – 10PM, Thurs – Sat 11:30AM – 11PM