Transport your Melbourne stay to the luxurious Parisian way of life at the Sofitel Melbourne On Collins. 'Living the French way' is synonymous with living life to the fullest with feelings of freedom and spontaneity, a sense of comfort and of course an insatiable appetite for fine, well-balanced eating. At Sofitel Melbourne on Collins expect nothing short of this. Nestled in the Parisian side of Melbourne's very trendy Collins street rests this marquee name for service 'par excellence'. Featured and famed in five continents and 40 countries, Sofitel's old school European charm combines warmly with Parisian flair and Victorian flavour to give you this 'experience magnifique en Collins'.
Rooms and Suites
Sofitel Melbourne on Collins prioritises open sophistication or liberté in terms of space, lighting and aesthetic with the rooms all luxuriously furnished and meticulously arranged. Whether gifted the classic, superior or luxury rooms there is an ever-present air of exclusivity about your surroundings with breath-taking views of the city skyline, customised Sofitel MyBed, mood lighting, mini-bar, BOSE Sound System, marble bathroom and much more!
Junior Suite (a la magnifique)
To strengthen your vantage point, Sofitel's Junior suite on level 36 and above artfully uses all of its space by blending the living room with homely paraphernalia. Bolster the finest city views with a scan of the extended feature wall that also gives the suite ample lighting throughout the day. Modern versatility is only amplified with the Sofitel MyBed King or Twin bedding configurations, LCD Plasma screen, touch screen technology and 24 hr In-room dining.
Dining Options
 With an already vibrant and wild abundance of food choices in Melbourne, Collins street takes the cake in terms of being the flashiest fine-dining scene and the epicentre of French Gastronomy. With a stay at Sofitel Melbourne on Collins you won't be moving a muscle with already an extensive range of unique and sometimes paradoxical choices on site.
Sofi's Lounge
You cannot look past the Sofi's Monochromatic High Tea Experience for quirkily presented and sumptuous dessert treats. Designed from scratch from the highly acclaimed chef David Hamm, and with two sessions at both noon and 3pm until 31stOctober 2019, your chance to tuck into charcoal scones or an Escher's Black Rose and Raspberry Sponge presented on a custom made architectural Esher-esque high-tea stand is definitely an opportunity you won't want to pass up. As an Accor Plus member you can receive 10% off any purchase here, with all Sofitel guests getting very special treatment at all times.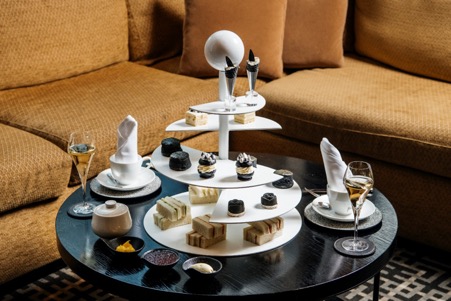 No.5 Restaurant and Atrium Bar
 For those guests wanting to celebrate the "joie-de-vivre" or the "enjoyment of life" you need not go higher than the 35thfloor. No.5 restaurant awaits with opens arms serving up a modern French cuisine with a scattering of locally sourced flavours and wine combined with personalised service to create the most unforgettable celebration of flavour. With the bar already raised, it's a dash across to the Atrium Bar on 35 to pop open some French Champagne or try the Melbournian on the Winter cocktail List as you soak up some surreal views of the city lighting up.
Sofitel Club Member
You may have heard of living the 35 life? In the Sofitel sphere this the exclusive Sofitel Club membership privileging you to imperial level 35 views of the Melbourne surrounds such as the stunning Yarra River- all with an abundance of natural lighting from floor to ceiling. This
of course comes after your complimentary breakfast served with the highest manner of personalised service possible in your refined Sofitel club room. Higher than level 35 and we start entering the inner sanctum of hotel luxury. Worthy or a royal mention are the ImperialOpera and Prestige suites that are the essence of majestic and the signature of elegance.
See & Do
The Sofitel Melbourne On Collins is walking distance from all of Melbourne's central showpieces NVG, MCG and Fitzroy Gardens. Melbourne is also the optimal place for the discerning traveller wanting to awaken that sense of mystery and wonder by providing such a unique balance of the quirky, artsy, foodie and sporty. The array of hidden and secret bars or 24/7 eateries in unobvious areas is just one example of where your night can take you. Lead Concierge Andrew Natoliwill have all the answers to your adventure needs if exploring some of the more regional areas, like the Great Ocean Road, is on your hit list.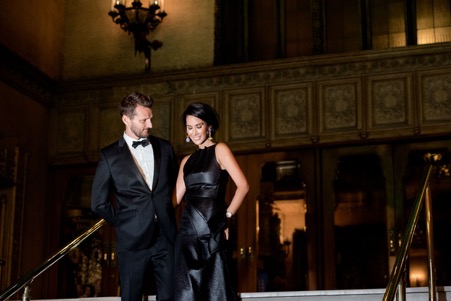 Highlights
Check out some further amazing deals happening around you with Sofi's Lounge offering up a Terracotta Warrior High Tea Experience in light of the show on at the NGV currently. For a touch of warmth check out what Wintervention means for your savings and if bringing your family don't forget that Kids Dine For Free up until 31stJuly 2019.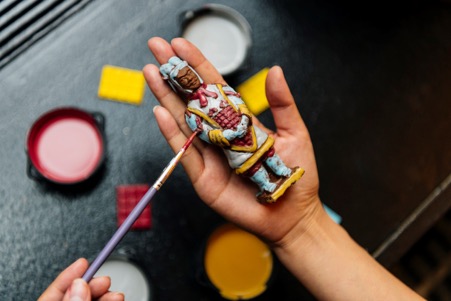 The Verdict

A stay at Sofitel Melbourne on Collinsis where expectation will meet reality. The reality not simply being the heightened luxurious element being offered but more the adaptation that comes with embracing a lifestyle born out freedom and wonderment.