CrowdInk had the chance to sit down at Chokolait's Emporium location on Lonsdale Street in Melbourne with one of it's founders, Ross Harvey. Ross gave us a quick look into what it's like to be truly passionate about both your craft and people. He explains that being passionate means working with both people and product, 363 days each year (bless Christmas and New Year's), promoting as much transparency in your process as possible, and, yes, evaluating how many pictures people take of your product range.
CrowdInk: Can you tell us a little about the founding of Chokolait and how it runs now?
Ross Harvey: Chokolait started up in 2007 with what is now called Chokolait Hub at 318 Little Collins St., Melbourne, CBD, with myself and my wife, Marianna, as the founders. We opened up the Emporium location on Lonsdale Street 2 years ago and this store has become our flagship. It took six months to design, but it's exactly what we wanted.
We branched into a second store because you can't make cakes, desserts, and chocolate in the same kitchen at the same time. There are a whole bunch of technical terms, but the bottom line is that chocolate can see stuff in the air after we bake cakes or desserts. And it doesn't like it. To have the ovens on all day, creating erratic temperature shifts, just doesn't work for chocolate. So we really just needed a second kitchen so that we weren't making cakes one day and chocolate the next. We can, and often do, use our kitchens at both locations 24/7.
CI: Beyond creating some genuinely delicious cakes and chocolate, what's your mission here?
RH: Well, people want to be involved with their food. Fast food, cafe courts, and franchises have their place, but in the last five or seven years food shows with celebrity chefs have taken over television. It's generated interest in wanting to know how to make your own cake, but also in how the professionals do it. It used to be that if you wanted to make a cake, you would buy a cookbook, and if it didn't work, you'd throw it away, throw up your hands, and give up. Now with Youtube and TV programs, you have someone walking you through it. People want that experience when they're out eating too.
We have our ovens out front here at Chokolait. People ask all day long, "what's in there?" And that starts a conversation. We're not here to get involved in people's personal lives, but we do want to be involved in their personal experiences here. Everything is plated in front of them. We have an open kitchen. Sure, this assures freshness, but it also invites people into the process.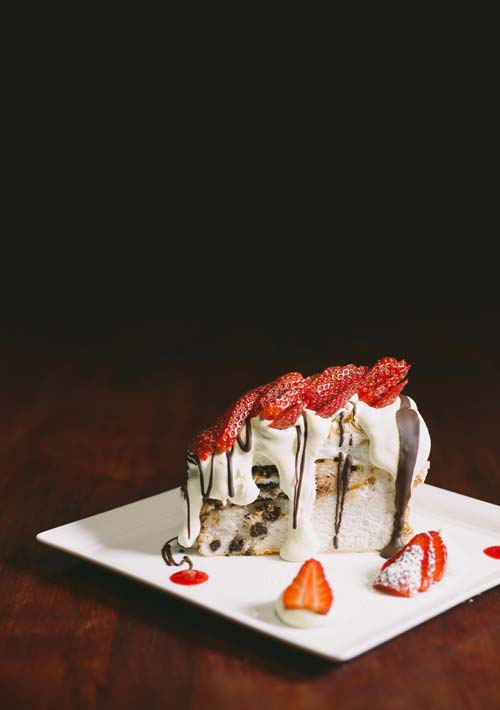 CI: What's the difference between a chocolate shop and a coffee shop, beyond the obvious?
RH: Well, people may stop for coffee three or four times a day. They duck in somewhere, because it's convenient or it's where they always stop. But a chocolate cafe/salon/lounge, whatever you'd like to call it, is a pre-meditated indulgence. Especially with social media being so omni-present. People think about their trip to a chocolate cafe days, weeks even, in advance. I'm going to go out on a limb and say that 99% of people love chocolate. It's a comfort food. There's an anticipation.
This comes to the second part of what makes chocolate salons, particularly ours, different. No one wants to make a difficult decision when they walk in that door. They are here to indulge and relax. So we want to make the standards (mud cake, torte, tiramisu etc.), but we want to make the best of that familiar food. We're here 363 days a year. This is more than a cake, an afternoon stop while shopping to us.
CI: How has social media affected the way we experience chocolate?
RH: Eating is now a broader experiences. I love pizza and sometimes it will come to the table and I'm floored by the presentation. Pizza! Satisfaction in the food industry used to come from a pleasant atmosphere and delicious, familiar food done well. But now, I know that we've done well when someone comes in and spends five minutes instagramming the dessert first. They're already enjoying it if they have their camera out. That's good.
People like beautiful things.
CI: What is your signature dessert?
RH: Our chocolate pavlova was another example of taking something familiar and doing it just a little bit differently. It's our national dish and when you look up "chocolate pavlova recipes" on Google, you get 10,000 recipes that give you a bland, brown mush. Ours took a full month of trials to get right. Everyone's mum makes the best pavlova; any Aussie will tell you that. And we didn't want to compete with it, because they're right! But a chocolate pavlova, one that incorporates the chocolate right in the technique rather than slicing it in. That was something we could do. Texture is, essentially, "un-mush." And that's what this is.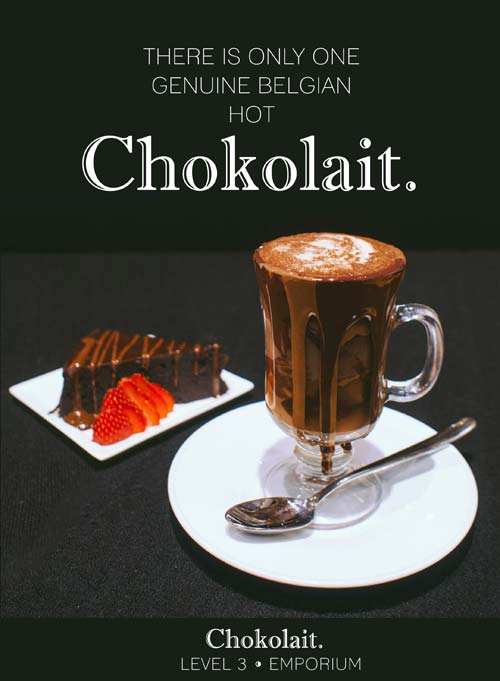 CI: Finally, can you tell us about the people who come to Chokolait?
RH: Our youngest customer, up until 3 months ago, was a 14 day old boy named Max, whose parents used to come into the Collins St. location regularly. Then Dana, an 8 day old, whose parents, again, come into the Emporium location all the time, made the trip. Our oldest customer, who recently passed, a 94 year old named Olive, used to come to the Collins St. location every Thursday. And she loved making jam. So she used to bring so much jam that we wound up giving it out to all the staff, too.
This is what it's about. I wouldn't mind a day off every once and awhile, but I'm here 363 days a year. Making chocolate. Getting people to pull out their cameras. Getting people to indulge. There's nothing better.
Click here to see more on Chokolait.