Attention people of the universe, I have a very important all caps revelation I must type-scream from the top of my lungs.
I AM SO OVER FAMOUS PEOPLE HATING ON FASHION.
The latest celeb to self-crown themselves 'holier than thou' is comedian of the moment, Amy Schumer.
Everyone's favorite funny girl recently sat down with Howard Stern and had a lot to say about her first 'and last,' Met Gala.
The annual event, arguably the pinnacle of the fashion calendar year, is a fundraiser for the Metropolitan Museum of Art in New York City.
This year's gala, hosted by the ruling queen of fashion and event chairwoman Anna Wintour, raised over $12.5 million USD for the museum's costume institute – the only section of the museum which is independently funded.
On the first Monday in May, celebrities, designers, and the who's who of Hollywood royalty are hand-picked and approved by Wintour to attend the invitation only party, and this year Schumer was lucky enough to snag one of the few 600 invites for 2016's Manus x Machina: Fashion in Age of Technology.
Is it elist? Snobby? A bit materialistic?
Sure, but do Wintour and the glamorous attendees pretend they are curing cancer?
Nope, so why can't we just let them have their cake and eat it too?
They're gorgeous, wealthy, connected, and selected by the biggest name in the fashion world to attend 'the party of the year,' and play dress up for a night.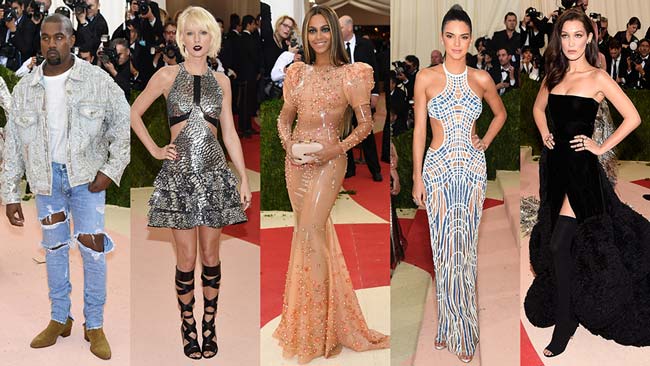 Wintour even invites several unknown designers each year to sit in on the party who would otherwise not be able to attend.
Schumer has joined the bitter ranks of Demi Lovato and Gwyneth Paltrow by hating on the gala, going as far as saying having to attend was like 'punishment.'
She groans on about how she doesn't care about 'fashion,' like it's a dirty word, and would rather be home living life as a 'classic introvert.'
The party itself, which is shrouded in mystery as phones and social media are banned after the red carpet, she scoffed was just a bunch of people 'doing an impression of a conversation.'
We get it Amy, gowns are difficult to put on and heels are hard to walk in. Boo-hoo.
Alexander Wang chose you for his date out of the hundreds of ladies to design for and created a custom gown for you.
Don't belittle his hard work!
What bothers me so much about this mentality, is Schumer deigning to act as though she is somehow 'above' fashion.
Since when was the craft of creating and designing clothing not an art form? Same as comedy or acting?
How ridiculously impressive is it that these artists draw masterpieces and then bring them to life!
You're not better than fashion designers Amy, and bashing on them as a stepping stone to be the cool, funny girl is lame.
As Fashionista.com agreed, "fashion is such an easy target, and hating on it feels a little hackneyed, if you ask us."
Not only is it a cheap ploy to pull the 'I love sweatpants' card after attending an event people would sell their souls to go to – though I'm sure an eternity in hell is not worth wearing Chanel – she is also the July 2016 Vogue covergirl.
Talk about biting the hand that feeds you.
You might have, 'no interest in fashion,' but the same lady who heads the event you couldn't be bothered to stay five minutes at also approved you gracing the cover of the most coveted spot on magazine stands.
Vogue Editor and Chief Anna Wintour is promoting your brand, giving you a worldwide platform dressed to the nines in coveted labels, so publically hating on everything she stands for seems not only childish, but supremely rude and ungrateful.
It may be a tired sentiment, but if you don't have anything nice to say Amy, you probably shouldn't have said anything at all.