An opportunity to visit this magical region cropped up and it only took 30 seconds to say, "Yes, let's do it." As I am preparing to run food & wine tours to the region, I made contact with some specialists in the Puglia region to make sure our time was well spent.
We flew into Bari, collected a car with a dodgy GPS, and drove the 100kms down the coast to Martina Franca, a gorgeous hilltop town in the Itria Valley. As with all trips we have done in Italy, you cannot rely on GPS to tell you "you have reached your destination" most of these towns are made up of roads made, at best, for the little fiats and the 3 wheeled Ape Piaggio's. Luckily (at 11pm) some staff from a little cucina just closing up led us through a labyrinth of laneways to our old town accommodation.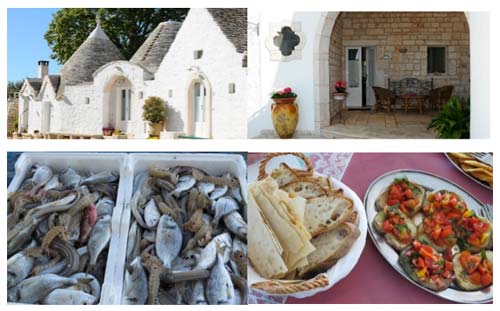 Tuesday morning, awakening to this beautiful town and the sounds of activity, we went back to try to find the car, had a delicious breakfast and were then on the road in daylight, this time heading back to Bari to meet our host for the next couple of days. GPS totally confused us and took us South rather than North. We quickly relegated it to the bench and replaced it with Google Maps. With a little help from the community police who escorted us into Bari and the waterfront, we eventually found our way.
We start our day of food and wine with a visit to Decarlo Olive Oil in Bitritto, Puglia. The De Carlo family is olive oil; their passion and hard work are inspiring. They own 120 hectares in one of Puglia's greatest and most historic zones, Terre di Bari. They live in the ancient village of Bitritto that is home to thousands of ancient olive trees planted primarily to Coratina and Ogliarola Barese. The family has produced olive oil since the 1600s, but in the 1970s Saverio De Carlo blazed a path to quality that no one else was willing to take. The result of his work is evident in the family's success as the estate has grown into, hands down, one of the world's greatest producers of olive oil.
Then we headed to Bitonto, a city and comune in the province of Bari, Italy. It is nicknamed the "City of Olives," due to the numerous olive groves surrounding the city. Interesting to note that a lot of locally produced olive oil was shipped to Tuscany and sold as Tuscan oil. A local story, but maybe a true one!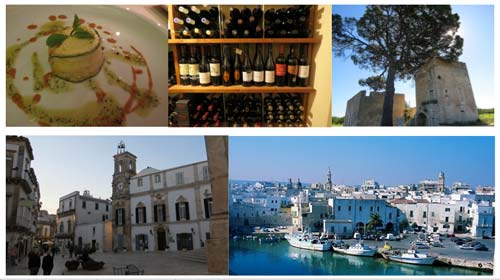 It's only lunchtime, but a very important time of day wherever you are in Italy. And finding hidden gems unless you are in the know and travelling with a local will be difficult. Today we are to be introduced to one of the finest Slow Food osterias in Puglia. Perbacco is dedicated to the Slow Food movement and has the accolades and awards to show for it. Maybe 22 seats, incredibly well priced, and oh so good. It's no wonder they all take extended time out for this ritual. Lunch was a tasting selection of octopus, flan of shrimp & ricotta, grano arso, a local burnt wheat pasta with bacon & tomato.
After a wonderful lunch and discussions about the slow food movement in Italy we head south to Polignano to discover this beautiful coastal town about 30 minutes from Bari. This gem of an Italian beach town is situated on the edge of a craggy ravine, high above the electric-blue ocean. Home to humans since prehistoric times, Polignano oozes charm to this day. Its collection of stone streets, pleasant piazzas and mysterious sea caves practically begs you to come and explore.
Polignano's dark, shadowy grottoes were home to people in the Neolithic era. The town later fell to Norman conquerors, and various families feuded over the village until the 19th century.
We have time here to explore some of the tiny streets, missing tourists at this time of day and just locals chatting in their little groups as they have done for hundreds of years. And as have many before us we visit the famous Gelateria for some scoops of a delicacy of coffee gelato from heaven. Definitely worth the visit. I think the gelato was Hazelnut & Pistachio and a liqueur coffee; excellently refreshing!
Back in Martina Franca for passagienta, a walk-round the old hilltop town centre, looking for one of the local specialties, butcher shops that change at night time to BBQ intensely flavored local beef. Unfortunately we were too late. This is a pity as this is a very local experience and you need to know who is doing it on what nights. Not a vegetarian's choice, but next time we will do it.