Hailing from the Torres Strait Islands, Dennis Nona is one of Australia's most celebrated and impressive artists. Creating paintings, etchings, wooden sculptures, and linocut prints, Nona's artistic abilities are second to none, so it's no surprise he is considered one of the country's greatest artists. Nona draws on ancestral history and the legends of Badu Island to tell detailed stories through his art, and these stories will all be told at his upcoming exhibition with Art Mob.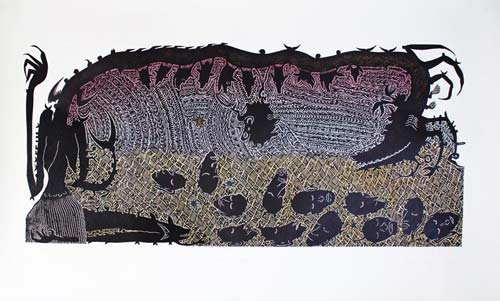 Born in 1973, Nona's artistic abilities were honed at a young age. He started his artistic career in woodcarving, a traditional art form, and one that he picked up as a boy.
Since then, he has always been keen to keep these traditional practices alive, relying on them to retell the stories of his people; for Nona, there is no better way to retain his culture than through his art. To this day, his work continues to tell ancient histories, though he has broadened his horizon to a range of mediums.
In his upcoming exhibition for Art Mob, Nona's extensive artistic talent shines through; moving into a new medium once more, he is embracing local clays and colouring agents, creating work in organic colours that imbue the natural world with the canvases on display. Nona portrays both the extraordinary – like ancient island spirits – and the ordinary – like the oft harvested purple yam – in exquisite and intricate detail. In a unique style that is entirely his own, Nona is able to capture small snapshots of life and history in Badu Island.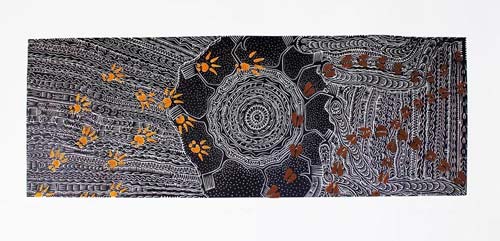 By working with both natural materials and the stories of Badu Island, Nona's fierce love of his country comes across in all the work he creates. He retells the stories that were made familiar to him as a child, like the wind birds holding up the moon or the tales behind sacred effigies, distilling them to their essence in a perfect form for his audience.
In an intimate look at the artist himself, Nona has also included stories of his own personal journey into the artworks on display, painted in his individual style and portraying both his past and his future to come.
Dennis Nona's exhibition opens on December 8th at 6PM at 29 Hunter Street, Hobart. Join Nona and other guests from Badu Island for the exhibition opening. The artworks will be on display until December 24th and are available for both at the gallery and online. Nona is one of Australia's most exciting artistic talents and this exhibition is not one to miss.