Maningrida, 500km east of Darwin, to Hobart is quite a trek, but Mick England is going the distance. Opening on Friday, October 13th, Mick's first solo exhibition is bringing the stories of his clan, the An-Nguliny people, to the other side Australia. Running in conjunction with Maningrida Arts, An-Nguliny Rarrk traces Mick's country through bark, wood, and ochre.
Following in the footsteps of his father, England Banggala, and his sister, Dorothy Galaledba, both prominent Indigenous artists, Mick is now retelling the stories of his clan in his own medium. From his intricate bark paintings, which utilise cross-hatching (or rarrk) to add detail and intensity, to his wooden sculptures painted with natural dyes and ochre, Mick is always tracing the history and tales of his clan through his art. Now, Mick is ready to share these stories with the rest of the country, and Tasmania is just the first step.
While art may run in the family, Mick's own work is characterised by its intense earthy colours. The body of work on show, focused on bark paintings, tall sculptures, and the use of natural dyes, chronicles the tales of an ancestral creator and its different forms.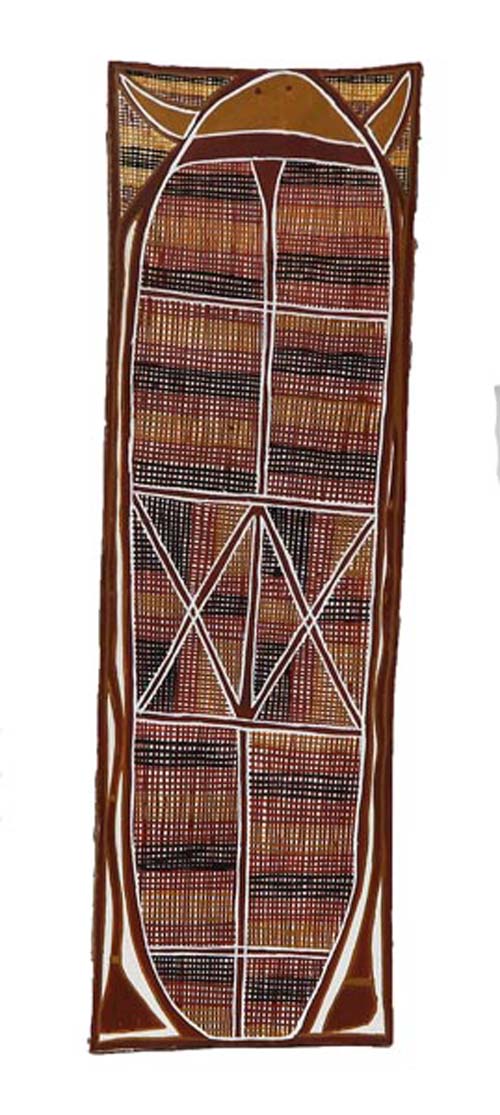 The importance Mick places on these stories is tangible when you see his work; the attention to detail, the depth he creates in his works, and the scale of both his paintings and his sculptures make this clear. Through his work, Mick is showing the designs of his clan, telling the stories that matter most and using the techniques most important to the An-Nguliny people.
This may be his first solo exhibition, but there is little doubt it will be the first of many for Mick England. While his father travelled extensively around Australia for exhibitions, Mick is already looking further afield. His sister, Dorothy, has visited and exhibited works in Paris, and Mick is eager to make his own mark on the European art world. If An-Nguliny Rarrk is a sign of things to come, it is likely he will go far.
But for now, Tasmania awaits. His own exhibition will be the highlight of his trip to Hobart, but Mick is also looking forward to seeing his father's paintings, and seeing his own work alongside it; these connections to family and his clan will always draw him home.
Not to be missed, An-Nguliny Rarrk by Mick England will run from Friday, October 13th until Friday, October 27th at Art Mob. The exhibition opens at 6PM at 29 Hunter Street, Hobart.
Exhibition Details: http://www.artmob.com.au/artists/An-Nguliny-Rarrk