New Year, new you. So why not new furniture too? Whether you have plans to moving out in the coming months or are just looking to refurbish your old home, why not keep your household looking classic with timeless, custom made, timber furniture?
For your start of the year redecorating, here are some helpful tips on how to design your home around that timber furniture, with inspiration from our friends at Pash Furniture: designers of one-of-a- kind, hand crafted tables, bookcases, shelves and chairs.
Less is more
This is the oldest mantra in the book. But with the constant trend of eclecticism forever lingering, and many households biting off more than they can chew in terms of décor, you need to always keep in mind the beauty of simplicity.
No two pieces of timber are the same. A natural wooden table comes with all the unique details and colours of the tree it's carved from, so you want to make sure it isn't hidden away with bold tablecloths or unnecessary ornaments. Keep the décor simple with a glass vase and a seasonal wildflower or plant. If you are in need of a tablecloth, make it a simple single colour, or sheer, if you can, and try to keep as much of the wooden detail out for show. The timber at Pash Furniture is carefully handled and manufactured to give you, the customer, a one-of- a-kind design, so it's only fair you flaunt it in the way it deserves.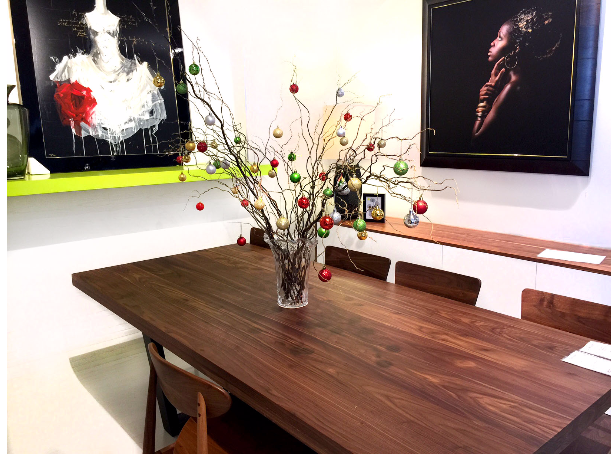 Keep it thematic
This is another point to remember in order to avoid the messy chaos of an 'eclectic' look. If you can rock eclectic in the right way, that's great, but don't practice it if you are someone that's messy or that tends to clutter up the place.
Consider what your favourite interior design trend is at the moment. While timber is a theme in itself, it can easily adapt to other colour palettes. Don't be afraid to experiment with a dash of your favourite colour, but make sure you're considering the mood of your timber piece. Is the colour of the wood cool or warm? If it's cool, stick with a cool colour palette for décor, so you aren't worrying about unnecessary clashes.
Or, if you're unsure, why not ask the guys at Pash what they recommend? They'll be able to give you the best advice for the interior designing surrounding your furniture.
Let there be light
Light is such an important part of any room. Don't fall into the trap of just settling for the ceiling lights of your rental home or house. Give yourself the freedom to experiment with a range of light décor whether it be a lamp, a set of lights or even some candles.
While light is practical, it also is a great decoration and does wonders to creating mood in your household. A timber coffee table could look great with a few scented candles to give it that warm toned, cabin feel. And a bookcase works great with a good oversized globe or cool light feature. Even battery charged fairy lights or light sets work well, as then you aren't worrying about the annoying cords you have to hide.
Pash Furniture sell a range of homewares, including lights, that you can add to your room, so while you're picking the best timber piece, look through the light décor they have in stock and get an idea of what'll work best.
Nature's your friend
Timber embraces the natural aesthetics of wood, so stick with that emphasis on the beauty of nature and work it into the rest of your homeware. Greens and earthy tones are the best way to stick with a natural theme, so play with large greenery, pot plants and even wooden or earth toned décor to truly indulge in a natural, forest-style interior.
Succulents, cacti and even fake plants could look great with timber, and are an awesome option for those wanting a low maintenance green look. You can also incorporate other 'natural' materials such as stone or pebble features, to further emphasise the outdoorsy trend.
If you are unsure about the natural colours of a timber piece working with your current household, though, not to worry! Pash Furniture offers a variety of colour stains, so you can incorporate the best colours for your environment.
Remember to tell the Pash Furniture staff exactly what you're after. The guys at the shop want to offer you affordable, custom made pieces, and are happy to make adjustments wherever they can.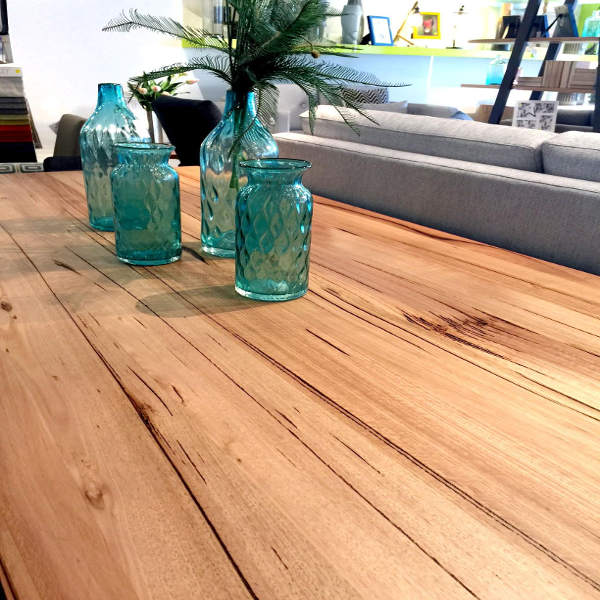 Custom, hand crafted design is such a rarity today, so don't be afraid to take advantage of it and tell them exactly how you like it!