During fashion week in Milan earlier in the week, American model Gigi Hadid was manhandled and aggressively grabbed by Vitalii Seduik, who is deemed as Hollywood's most hated man as she was heading towards her car. Hadid was quick to defend herself by elbowing from Seduik to break free and trying to confront him verbally. She had been heard to have cussed at him (rightfully so) lividly as she tried to chase him down the street before a security guard intervened.
Seduik's defence of his actions was supposed to be wake-up call for Anna Wintour to find "real talent" for the fashion industry, however many have considered his stance harassment and violent. Not one unfamiliar to the spotlight, Seduik is infamous for attacking high-profile celebrities at fashion shows and red carpet events. He even attempted to get personal with Australian model Miranda Kerr back in 2015 – not before being escorted out of the way.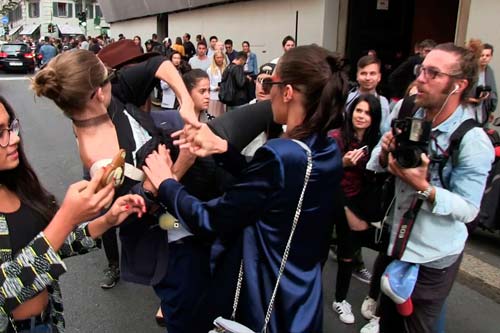 Many have hailed Hadid's actions as impressive and excellent in terms of defence – as with all assaults against women. Hadid's actions justified the right way to deal with assailants to protect themselves. However with the praises that Hadid has received, there have also been petty reactions – especially with some journalists and publications calling Hadid names, instilling that her actions were not of "model behaviour" from lashing out at a "fan".

While Hadid may have been spooked in the moment of the action, it didn't stop her from appearing fearless and beautiful on the Fendi runway hours later. Her actions come about as many trainers now emphasis the importance of women learning self-defense.