CrowdInk writer Chau Nguyen first saw a Killarney Street cat-printed sweater online and was determined to get one for herself, no matter how long it'd take or how far the sweater would have to travel. Through that online purchase, Chau had a chance to connect and learn more about the brand and the designer, Aiden Hwang, who is taking a new angle at combining Eastern and Western designs together and pushing forward with ideas for the brand.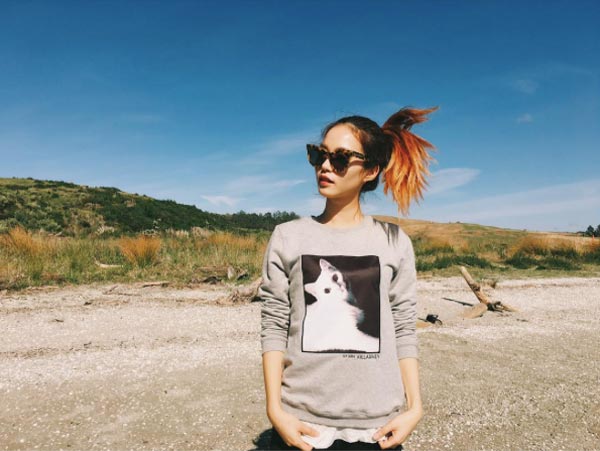 CrowdInk: Tell me a bit about Killarney St. and where the inspiration came from?
Aiden Hwang: Killarney Street is a Seoul based multidisciplinary fashion house, we're inspired by photography, graphic design, typography and music – all the aspects of creativity. We create a clothing line that are typified by shrewd detailing, minimalist shape with own making pattern.
I was born in Korea, but I grew up in New Zealand, so my idea of inspiration is basically from what I've been through in my life and what I've learned from the past. I'm still learning every day.
CrowdInk: How did you become interested in the fashion culture and designing clothes?
Aiden Hwang: I've had experience in many different types of design industries, and I like them all. But I developed an interest in branding design, which is a special area and not all designers are good at it since it's very vague. I've always had a desire to create something for myself – a product and a brand.
I always thought that fashion is one of the many art forms where you live your life in. Not everyone likes poetry, not everyone likes looking at artwork, and so they can avoid it. But fashion is one of the art forms in which everyone is involved in, whether they like it or not.
CrowdInk: You have a new collection coming up – tell me about the concept, designs and such?
Aiden Hwang: The looks themselves are based around the concept of 'just [being] dropped in'. Inspired by 70's music, fashion and culture that had a phase with the 'wrapped' element. Many things inspire me, but music is always close to me so that helped me to create the concept around Killarney Street, and allowed me to transform this idea into an actual product – the products!
CrowdInk: Who are some of your influences and icons that you look up too?
Aiden Hwang: I don't have one specific favourite icon because there are lots of people and things that inspire me. Because I started out as a graphic designer, Milton Glaser, Stefan Sagmeister and Paul Rand are my favourite deign icons.
From within the fashion industry, Jean Touitou (creative head of A.P.C). Acne Studio and Beams Japan inspire me with their seamlessly effortless design style.
CrowdInk: Korea has been seeing a lot of changes and trends in the fashion industry, a new strand of youth and fashion culture making waves as oppose to Korea's conservative tradition – where do you see Korea heading in terms of fashion trends in the future?
Aiden Hwang: I really can't pick out what identifies as 'Korean' when it comes to our culture, especially in fashion. One of the biggest problems in Korean fashion is that we're losing our identity. When something becomes the trend, people all rush to have it. The fashion industry in Korea is like a sponge that just soaks up anything trendy and it's getting bigger and bigger in such a short time, while changing at a fast pace too.
But people are trend conscious and care a lot about what is cool and how other people view their fashion.
Of course there are still good designers and brands on the forefront we have, the Korean industry is still beginning to grow strong and overseas are showing interest.
CrowdInk: And what do you hope for Killarney Street in the future?
Aiden Hwang: Nothing concrete at the moment, but we are always trying to be more creative. We are new, only a year old, so we have lots to learn, and we may be wrong about where the direction is heading.
We are not in the same financial situation as more popular brands, and we don't want to be their competitors – we're not interested in that. We're interested in expanding our activities by selling our products to all over the world. I'm not interested in making a big profit. We just want to show our ideas to people who have same idea and who like our products.
Visit Killarney Street on their official website and online shop here, make sure to support this upcoming designer and their effortless and minimalist products, suited for everyday wear without ever going out of trend.