There are plenty of fitness personalities on Instagram, but sometimes you want someone who posts more than just smoothie bowls and burpees. Here are a few of our favourite fitness influencers who have a very different take on the industry.
Nicole Loher (@nicoleloher)
From fashion to fitness, Loher is one for dedication. She's worked in PR for Stella McCartney and Nanette Lepore, then dabbled in beauty at NARS, and while she now does PR for another New York-based enterprise, her Instagram is all about fitness. Loher is a keen triathlete and she posts daily about her 4:00am wake ups, 10 mile runs and heavy lifting. But best of all, she keeps it real, discussing topics like injury and recovery and the healthiest ways to train.
Natacha Oceane (@natacha.oceane)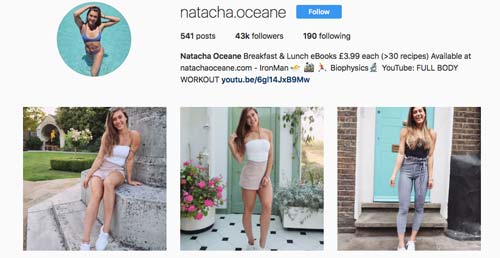 With over 40k followers on Instagram, Oceane is an absolute beast in the gym. With a masters in biophysics, she fuses science together with fitness, talking with Instagram and YouTube followers about the science behind working out. And there's no smoothie bowls here either! Oceane, who has released a breakfast ebook and is currently developing additional recipes, is a big believer in whole, healthy foods and she certainly doesn't shy away from the calories she requires.
Malin Malle (@malinmallejansson)
If heavy-duty fitness is your thing, Malle is sure to please. There's certainly a lot more to her routine than a thirty-minute HIIT workout and the results are pretty obvious. The Swedish superstar fills her feed with footage of her own workouts, which are pretty intense to say the least. If her crazy upper body strength doesn't inspire you, then maybe the videos of her couple workouts will make you want to hit the gym with your S.O.