As summer is fast approaching, our fish and chip cravings will soon become more apparent. An Australian summer is never completed without many visits to your local fish and chip shop. Licking the salt off your fingers and the taste of fresh battered fish is always an ideal way to finish a day maybe after a long trip at the beach, the cricket, relaxing pool side or in your own backyard.
The Blu Australian Seafood Group Fish and Chippery , voted one of Melbourne's top 10 best Fish n' Chip Shops, Blu, should be your first stop for your serve of fresh seafood in this warmer months to come and all year round.
Amongst the industrial suburb of Coburg is Blu.  Blu is built on the values of family, a good feed and delivering fresh, high-quality produce to the local community and loyal customers. Blu opened its doors in North Coburg in April 2016 originating from the humble beginnings in Con Patsiotis' first fish and chipper in Lilydale in 1977 and now the Coburg shop has become an institution in its own right. The family run business has been carried on by son Theo Patisotis serving fresh locally-sourced fish from across Australia.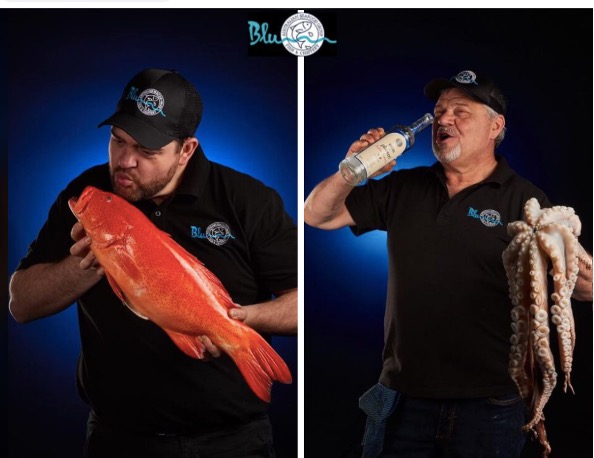 Upon entering the Blu establishment, you immediately feel welcomed and know you will be looked after and well fed. Theo and his team exude passion for delivering fresh locally caught seafood and to educate their customers on the importance of catching, preparing and serving high quality and sustainable produce. Theo prides himself on being transparent on where his produce is caught whether it is locally sourced from Australia or imported from the fresh oceans of New Zealand, you know where your meal is always coming from.
Their array of raving fans from across Melbourne flocking to the Blu establishment continue to come back time and time again for the marinated prawns, Moreton bay bugs, cray fish and even fish burgers and souvlakis.
The venue welcomes big families, couples and entire crowds to enjoy the golden thick battered fish with loads of chips, fresh salads and sides of calamari, crab sticks and scallops. Blu are proud sellers of fine seafood and also to be feeding their large loyal community. The aspect of family and community that Blu brings with their service and cooking is what sees to their customer base continuing to return for a regular seafood feed.
Link to Blu's Menu Here.
Blu's menu gets you dreaming of pink salmon, snapper and freshly caught flat head, catering for everyone's appetites. With them guaranteeing the 'freshest gummy you have ever eaten' there is no reason for you to stop at any other local fishery.
The freshest fish and highest quality produce in Melbourne, it is a fish and chip experience you need to enjoy this Summer and continue to go back again and again. Whether seafood is your thing or not, Blu's will always have something on the menu for you.
To check out their menu early or to hear more about Blu's story follow below:  www.blubyasg.com.au/
Instagram: @blu_australian_seafood_group
Facebook: www.facebook.com/blubyasg/