For all the fashionistas out there who love travelling in style, and have a bit of money saved up that's waiting for you to splurge, this one's for you. Here are five of some of the world's most fashionable hotels that scream luxury, elegance, and most importantly, style.
Bulgari, the Italian haute couture label, is famous for its designer jewellery and accessories, as well as its fine and unique details. So it should come as no surprise that the Bulgari London Hotel offers similar aesthetics. With its fourth year in operation, it offers immaculate rooms, stylish suites, as well as luxury dining, spa treatment rooms, a gymnasium, and a fully decked out cinema. Each room and suite is designed specifically to match the theme and feel of the designer brand – subtleness, elegance, and simplicity.
Staying at the Dior Suite allows you to escape the busy streets of New York into a fashionable French paradise. The suite offers French style interiors with an elegant lounge set, a dining area with antique chairs, a decorative fireplace, high ceilings, as well as a perfectly framed illustration of Dior's collections. Surrounded with spectacular views of Central Park and Fifth Avenue, you will definitely feel inspired and fashion forward like Christian Dior.
The five-star hotel in Dubai brilliantly showcases the same approach as the Armani brand with its interior design and room décor throughout by adding in neutral colours and furniture for a relaxed and comfortable environment. With its impeccable cuisines, spa treatments, Armani retail stores, and public and private events, the Armani Hotel offers nothing less than luxury, sophistication and stylish accommodation to all of its guests. As mentioned on the hotel's website, for "a world of sophisticated beauty, stay with Armani."
Personally designed by fashion designer, Karl Lagerfield, the Im Grunewald Suite at the Schlosshotel in Berlin provides the perfect aesthetics and for the ultimate five-star fashionable suite. The masterpiece suite offers classic fittings and design techniques, and warm colours including blush pinks and subtle purples, which brings the whole room to life. If you're looking to stay at a traditional inspired hotel that still offers beautiful and stylish luxury, you've come to the right place. Make sure to check out the romantic gardens, restaurants, and public lounge areas while you're there.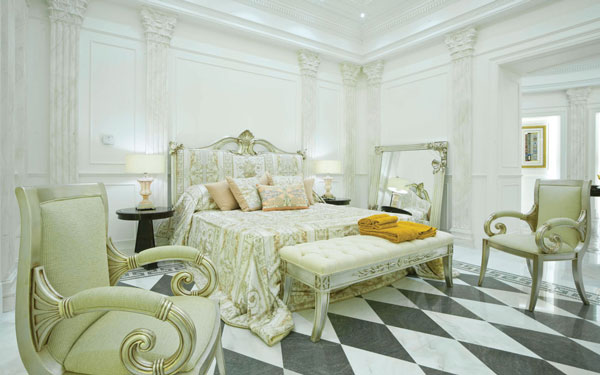 Australia's Palazzo Versace hotel and resort is well known for its signature Versace designs and colour themes as well its art work, sculptures, and unique artefacts. Palazzo Versace was also the first fashion-themed hotel in the world to be established. The hotel's rooms and suites have been decorated and tailored specifically to suit Gianni Versace's visions, with hand-detailed vaulted ceilings, marbled en suites, framed art work, and custom-designed furniture. Other great amenities of this luxurious European inspired hotel include luxury condominiums, a Versace boutique, spa retreat, heated pool, fitness centre, high tea, and fine dining.
Are there any other stylish or fashion-themed hotels you've stayed in? Comment below.