Addicted to chocolate, but had enough of the classic mud cake? Well you've come to the right place.
Chocolate no longer has to be restricted to brownies and cakes. There are heaps of ways you can integrate chocolate into recipes which means you can have it for breakfast, lunch and dinner.
Plus chocolate is a superfood and can help relieve stress, it's a good source of anti-oxidants, and can improve blood flow. Need I say more to convince you?
So have a go at these creative choc recipes which will make you see chocolate in a whole new light.
1. Dark Chocolate Marinara Sauce
INGREDIENTS:
12 ounces dried pasta
1 Tbsp. olive oil
4 cloves garlic, minced
1 (28 oz.) can crushed tomatoes
1/4 cup roughly chopped fresh basil leaves, loosely packed
1 ounce dark chocolate, chopped
1 tsp. sea salt
1/4 tsp. dried oregano
1/4 tsp. crushed red pepper flakes
optional garnishes: additional julienned fresh basil and Parmesan cheese
METHOD:
Cook pasta in generously-salted water al dente according to package instructions.
While the pasta is cooking, heat oil in a medium skillet or saucepan over medium- high heat. Add garlic, and saute for 1 minute, stirring occasionally. Add the remaining ingredients, and stir to combine. Reduce heat to medium-low, cover, and simmer for 10 minutes.
When the pasta is cooked, drain the water. Then serve the pasta with the sauce ladled on top, or stir together the pasta and sauce and serve with additional garnishes, if desired.
2. Chocolate covered strawberries bread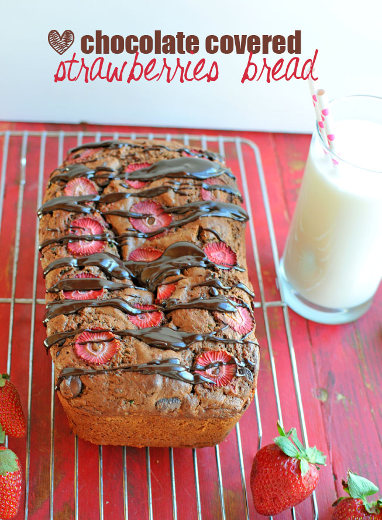 INGREDIENTS:
1⁄2 cup Diced Kale (stems removed)
2 tablespoons Coconut Oil
3⁄4 cups Vanilla Almond Milk
2 Eggs
8 tablespoons Butter (one stick)
2 cups Unbleached All-Purpose Flour (or sub whole wheat pastry flour)
4 tablespoons Cocoa Powder
1 tablespoon Baking Powder
1⁄2 teaspoon Sea Salt
2⁄3 cups Coconut Sugar (or sub light brown sugar)
3⁄4 cups Diced Strawberries
1 cup Dark Chocolate chips
2 Strawberries (to slice and lay on top of bread)
1⁄2 cup Dark Chocolate chips (to put on top of the bread after it has baked)
1 teaspoon Vanilla Almond Milk (to melt in with the chocolate to put on top)
METHOD:
Preheat oven to 375 degrees.Melt coconut oil over medium-low heat in a skillet. Add in diced kale and saute for approximately 5 minutes, stirring frequently. It should not get brown at all.
Combine all ingredients, except chocolate chips in a medium mixing bowl. Stir thoroughly. Gently stir in chocolate chips.
Use non-stick spray to coat a loaf pan. Then, pour in batter. Top batter with thinly sliced strawberries.
Bake for 70 minutes, or until a knife comes out clean. Let cool for one hour before slicing.
Melt 1/2 cup chocolate chips with 1 tsp vanilla almond milk over low heat. Then drizzle the chocolate mixture on top of cooled loaf.
3. Chocolate Chips Cheesecake Freezer Pops
INGREDIENTS:
2 Cups of Loosely Crushed Golden Wafer Cookies (such as Nilla brand)
2 Cups Prepared Cheesecake Flavored Pudding
1 Cup of Chocolate Chips
5 Sheets of Loosely Crushed Graham Crackers
METHOD:
Combine all of the ingredients together completely. Spoon into your popsicle molds or optionally the mini bathroom cups and insert your wooden popsicle sticks or lollipop sticks.
Freeze for approximately 2 hours or until completely frozen through.
Makes approximately 6 small bathroom cup sized pops.
4. Slow Cooker Chocolate Chilli
INGREDIENTS
Spice Mixture
1/4 cup chili powder
2 tablespoons whole cumin seeds
1 teaspoon cayenne
3/4 teaspoon ground cinnamon
2 teaspoons oregano
3 bay leaves
2 teaspoons brown sugar (light or dark – I used dark) Chili
4 lbs. boneless beef chuck cut into 2 inch cubes
1 teaspoon freshly ground black pepper
2 tablespoons salt
3 tablespoons oil
3 medium sweet or white onions coarsely chopped
1 1/2 cups chopped celery
6 cloves minced garlic
2 jalapenos diced
12 oz dark Mexican beer
2 tablespoons tomato paste
1 28oz can crushed or diced tomatoes
1 oz semi-sweet chocolate chips
3 tablespoons masa flour
Optional Garnish
Grated Cheddar cheese
Chopped Green Onions
Sour Cream
Cilantro
METHOD:
Put together your spice mixture and set aside.
Put 1/2 the oil in your skillet and turn onto high heat.
Season your meat with the salt and pepper.
Brown the outside of your beef in batches, adding more oil when needed. Do not cook your meat all the way through, you just want a crust on the outside about 2 minutes on each side.
Throw the meat into your 6 qt or larger slow cooker.
Add the onion, celery to the skillet and saute until they begin to soften.
Stir in the crushed tomatoes, beer and tomato paste and simmer for 3 minutes
Add the garlic, jalapenos and spice mixture to the skillet, stir and simmer for 1 minute.
Pour this over the beef in your slow cooker and cook on low for 6-8 hours until the beef is tender.
Stir in the parsley and cilantro leaves and serve.
Stir in the masa harina and chocolate chips and stir until they are melted.
5. Choc Mint Pancakes
INGREDIENTS
1 1/2 cups (225g) self-raising flour
2 tablespoons cocoa powder
2 tablespoons caster sugar
1 Coles Australian Free Range Egg, lightly whisked
1 1/4 cups (310ml) milk
2 x 35g Nestlé Peppermint Crisp chocolate bars, coarsely chopped
20g butter, melted
6 scoops mint chocolate chip ice-cream
40g Nestlé Aero Peppermint Chocolate bar, coarsely chopped
CHOCOLATE SAUCE
100g dark chocolate, chopped
2/3 cup (160ml) thickened cream
1 tablespoon brown sugar
METHOD
Preheat oven to 100C. Sift the flour, cocoa powder and sugar into a large bowl.
Whisk the egg and milk in a jug. Add to the flour mixture and stir to combine. Set aside for 15 mins to rest.
Meanwhile, to make the chocolate sauce, combine chocolate, cream and sugar in a small saucepan over low heat. Cook, stirring, for 3-4 mins or until the chocolate melts and sauce is smooth.
Add half the chopped Peppermint Crisp bar to the pancake mixture and gently fold to combine. Heat a large non-stick frying pan over medium-low heat. Brush with a little melted butter. Pour two 1/4 cup (60ml) quantities of batter into the pan, allowing room for spreading. Cook for 2 mins or until bubbles appear on the surface. Turn and cook for a further 1-2 mins or until golden. Transfer to a baking tray. Cover loosely with foil and place in the oven to keep warm. Repeat with remaining batter to make 12 pancakes.
Stack pancakes on serving plates. Top with ice-cream. Drizzle with chocolate sauce.
Sprinkle with Aero bar and remaining Peppermint Crisp bar.