There has been a lot of hype about the internet industry in the South East Asia region that consists mainly of Singapore, Indonesia, Philippines, Thailand, Vietnam, Malaysia, Myanmar, and Cambodia. With a combined population of approximately 640 million, it is hard to swipe South East Asia to the side when it comes to talking about the global market.
However, just how big is it? And what are the opportunities it presents for internet companies? In a new report released by Singapore sovereign wealth fund Temasek and Google, we highlighted 3 key things to pay attention to when considering this part of the world.
South East Asia is huge when it comes to internet connectivity.
There are approximately 260 million users now and there are estimated to be 480 million by the year 2020. Southeast Asia is the world's fastest growing internet market — adding 124,000 new users a day. The majority of this growth is in populous countries like Indonesia and the Phillipines.
Beyond that, its young population's (70 percent of which is under age 40), lack of "big box" retailers serving entire countries and growing middle classes are forecast to contribute tremendously to this growth.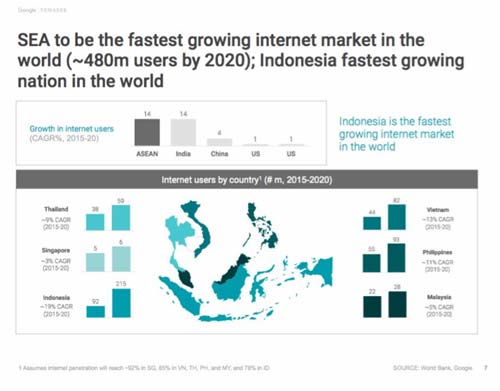 Travel is going to be huge in this region
The region's travel industry has been boosted by the quick adoption of low budget carriers such as Tiger Airways, Air Asia, and Jetstar. This allows a growing number of people in South East Asia to be able to travel around the region, due to lowered costs. The internet has been quick to take advantage of these offers by making many such purchases.
However, international air travel is not the only area to take notice of. Other form of travel sites such as bus ticketing platform Redot.sg have become very popular among locals to purchase bus tickets. Another area to note is the move into online travel package purchases instead of buying them at the destination itself. It is of no surprise that the travel industry is expected to boom 650% over the next 10 years. Let's also not forget the impact travel mobile applications such as Uber, Grab, and Gojek contributes into this economy.
The Internet startup scene is booming in this region.
With the boom in internet adoption, South East Asia has also become a magnet to attract internet entrepreneurs and companies to pay attention to this region. Countries such as Singapore are investing into the tech scene by supporting startups through various government grant schemes to spur the growth of such companies. The Economic Development Board has also been actively wooing foreign IT companies to setup shop in Singapore while targeting the region.  Through the years, South East Asia has produced some huge local internet companies, such as Garena, which further showcases the potential of this South East Asian market. The deal flow has slowed down the past 2 years, but at an estimated deal flow of $1 billion, you can't ignore this market.
Overall, despite all the positive news, South East Asia still faces a lot of challenges from the lack of engineering talent, payment mechanism etc. which we believe are areas of opportunities for an outsider.