Sarasa has been a dancer since the age of 5. She delved into the visual arts seriously, only later, although she had been painting and drawing before she even began to read. With a ravenous appetite for words and books, it made sense that Sarasa quickly turned to drawing and painting. The remarkable transfer and conversion between dance technique, drawing and writing became her hallmark of her style or art form. When the dancer in her learned the techniques (ballet, contemporary, and three styles of Indian classical dance), Sarasa found that she was drawn to the flourish at the end of a piece. That creation of a pause and heightened awareness that occurred in dance, drew her back to the canvas. She wanted to capture that moment – that heightened state of the power of love and energy – in the lines of visual art.
Sarasa is mostly self-taught. She had an opportunity to go to Florence, Italy and formally trained with Da Vinci's art styles. She learned to move with watercolors and oil paint and all of that became incorporated into her visual art.
Sarasa's work is multi-dimensional in manifestation. She was recently conferred a doctorate of philosophy and her art reflects both her dancing life and the philosophy that she's researched. Painting is a matter of wanting to capture some part of her energy, the action that goes on while she's dancing, on canvas. Movement and how that appears in visual art is hugely important. She states that when a dancer creates something, there is always that moment of stillness where all ceases to exist, where true creativity begins. After techniques have been mastered, artists find that moment in space and time where technique becomes secondary. We just move toward a very pure purpose.
Sarasa has worked with many productions in Perth as well as in Asia where over 100 dancers and crew participate to creating a single painting, comprising of multiple canvases. One such work was when she interacted with 35 children between 3 and 16 years old, over four and half months learning, reciting, and writing the Hanuman Chalisa in an intense ritual called Sadhana. The ritual produced 45 pieces of canvas that Sarasa then completed with a textural representation of Hanumanji.
Some of these paintings (she calls them 'Sahridhaya Paintings') are on exhibit at the studios of Saraswati Mahavidhyalaya (SMV) at 263 Beaufort St Perth. The dancers of SMV will be performing in the Swan Festival of Lights this year in Elizabeth Quay, Perth.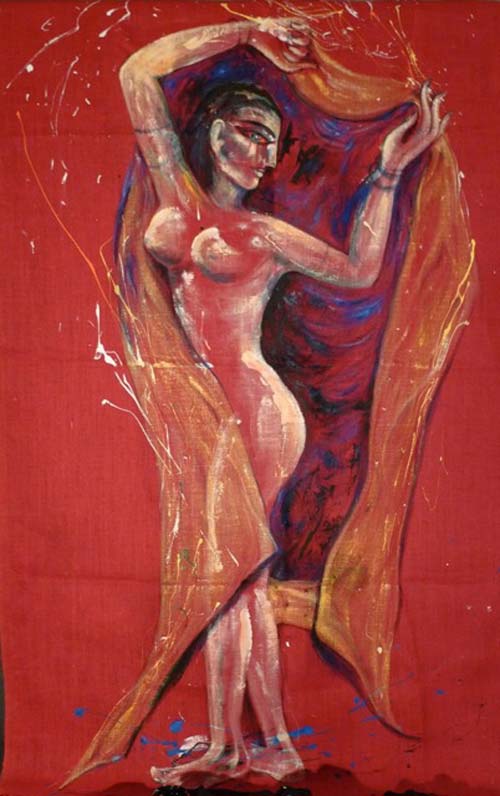 I willingly tenderly nurse this deep pain, buried,
an aching ball of searing fire that I cannot hold… keep dropping… 
but that is the only link that I have…
only real tangible string that I can muster at call,
one connection that finds the real me to the real you.
What is this, my beloved…'
the pain that u have left behind,
is this the legacy of your unconditional love…
searching and seeking to unite to one love, searching and still seeking… you
You… in all you say …but all are … but reflections, not real…
a trick that you played. Not at all real…
A punch in the guts, a ripping tear in the soul… a hole in a sphere,
tumbling spirits pour out, fall into a pit of lost souls
lost concoction, of despair and hope…
When I look, see, optimise, scrutinize…
Question, question, exhausted……. felled thoughts
Black ravens take off, white doves descend…
no light, yes lights…
Come to me
No mind, never mind……..
Play on, shift of vision
dance within, sing soul,
Light …….All light.
– SARASA
Sarasa often looks back at pieces she's completed over the years and finds herself saying, "Wow, did I really do that?" She finds that the characters of her performances and on her canvases 'speak' to her, and each other. She reflects this in the way she curates her work in her exhibitions. She'll place them as if they are communicating with each other along with poems that she's written or from other poets over centuries. Certain poems inspire certain paintings.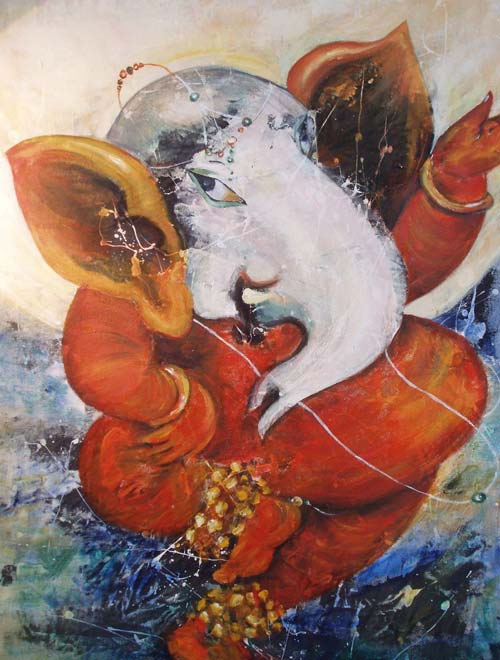 Sarasa weaves her concepts into dance, art, music, and the written word. She calls it, "seeing music, hearing images, and painting dance." This multi-faceted approach to philosophy has produced both tangible solo works and collaborative installations that just aren't to be missed. Catch some of her work at The Swan Festival of Lights – "Celebrating Deepavalli," between 28-30 October at Elizabeth Quay, Perth City. She is one of the two artistic directors for the festival.
Sarasa is also launching her book, Bharata's Karanas- An Interpretation, in early October in Perth, an initiative from her PhD (on the transformation in human consciousness.) The book deals with dance, Indian theatre, and movement. It has already been launched at international conferences in the UK, Paris, France, and Singapore.
In February of this year, Sarasa completed a 2 storey mural on the SMV Building in Perth City for Perth Fringe. Be sure to have a look the next time you're in town!
And be sure to check out her extensive visual art galleries: on Bluethumb and on her own website.
Sarasa Krishnan
http://www.sarasakrishnan.com/   Sarasa Krishnan is an Indian classical dancer and visual artist who has performed, exhibited and lectured extensively in Europe, UK, USA, Australia and Asia. With key organisational and co-ordinational experience in festivals such as "Dance India Taste India" in Perth and various cultural and liberal arts programs in France, Italy and locally, Sarasa was instrumental in presenting The Temple of Fine Arts at the Edinburgh Festival Fringe in 2008. Collaborating with other cultural dancers in Italy (Flamenco) and in Australia (Ballet), Sarasa presented The Temple of Fine Arts at "Fiesta Firenze" in Florence Italy. An exhibited visual artist, she recently presented solo in a dance/visual art performance in Singapore, under the auspices of Satchi Gallery UK. Sarasa was awarded the prestigious "Natya Acharya" (Professor of Dance) in 2003 by His Holiness Swami Shantanand Saraswati, founder of The Temple of Fine Arts International.