While we may all envy and pine for a huge room with massive floor to ceiling windows and plenty of room for drawers, shelves, a king-size bed and more, we don't all have it. And that's especially true for students, renters and anyone recently moving out.
A lot of us have pretty tiny bedrooms with minimal space, meaning opportunities for design and decoration are limited. If you're one of the many living in something close to the cupboard under the stairs, then here are a few tips on how you can decorate and take advantage of that tiny space.
Get a multi-use bed.
Beds are the biggest takers of space, so why not find a way to give it multiple use? If you have minimal leg room but super high ceilings, experimenting with your bed is definitely for you. Beds with drawers and shelves underneath look great, and are awesome for stuffing away all that clutter when you don't have time to properly clean.
Or get a bunk bed! They don't have to just be for kids. You could get a traditional bunk bed and use that bottom bunk as a cosy couch for guests…or you can grab a bunk bed with an attached desk. Sleep space and study space!
Play with wall décor.
No floor space? No worries! Use the walls! Don't leave these blank and boring, take full advantage of the space. Paintings, fairy lights, tapestries and even empty frames create can give your room colour and personality, and you aren't taking up a single centimetre of that floor space.
We personally love the look of fairy lights with photos pegged over it. Mood lighting is a big plus!
Hooks, hangers and more hooks.
Don't fall into the trap of trying to stuff in shelves and racks and desks that just don't fit. You can easily hang up hats, shoes, scarfs and accessories on hooks and hangers that you can attach to your walls, or even have placed over your door.
Maintaining a colour theme when picking up some hooks and hangers is important, but don't be afraid to mix and match. Filling your walls with an array of colours and tone can create an awesome eclectic look. And if you can't nail in hooks to walls, then there are heaps of detachable options out there too!
Don't forget your ceiling!
Just like your walls, you ceiling is free space too! You can stick décor up that you can admire while you sleep, or even hang lamps, curtains (maybe hang them over your bed?) and even easy-to-maintain plants.
All you need to do is nail a hook or attachment to your ceiling and the rest is up to you! If you get bored with the lamp, switch to a cool plant! We love these indoor plants as fun bedroom greenery, so long as there's not too much mess.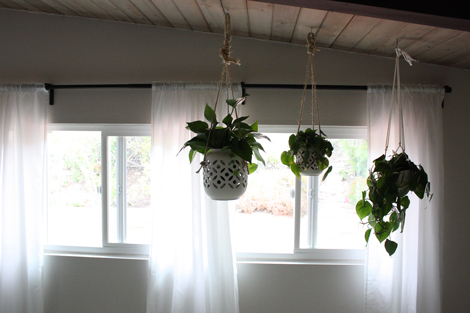 These should help you get some tiny room inspiration; great ideas that don't compromise space! If you've got the time and facilities, why not give them a go? Remember, don't restrict yourself to the floor space, instead, try to think in, around and outside the box.