World No 1 Rafael Nadal will get a vital Australian Open tune-up when he joins a stellar cast of five of the top ten players in the world at the Priceline Pharmacy Kooyong Classic next week.
Nadal will play on Tuesday, in a boon for the two-time Australian Open champion, tennis fans and the 30th anniversary edition of the Kooyong Classic.
Nadal's participation means five of the top ten players in the world will be on show next week, and that doesn't include 12-time Grand Slam champion Novak Djokovic who will play two matches at Kooyong as he recovers from an elbow injury in the search of match practice ahead of the Australian Open.
And in a further twist, former world No 17 Bernard Tomic will also hit the court on Tuesday as he continues to weigh up the possibility of an appearance in the Australian Open qualifying commencing on Wednesday.
Much like the situation with Djokovic, discussions accelerated with Nadal's team after the Spaniard was forced to withdraw from the Brisbane event due to an ongoing knee complaint.  After arriving in Melbourne and successfully completing practice on Friday and Saturday, Nadal confirmed a wish to have a hit out for the first time on the famous Kooyong centre court.
"Rafa was looking for matchplay and of course we were more than happy to oblige.  The addition of both Novak and Rafa changes our schedule and the way we will run the four days but that's what Kooyong is all about, we are here to help the players get ready for the Open," tournament director Peter Johnston said.
"And of course, in our 30th anniversary edition, it will be amazing to have two of the all-time greats on the famous Kooyong centre court, and that's before we even mention the other names in the top ten we have this year… it's shaping up as a great anniversary edition," Johnston added.
Joining Nadal, Djokovic and Tomic is an armada of the world's best players including two-time Kooyong champion David Goffin (Belgium) who made the final of the ATP Tour Finals after defeating Rafael Nadal and Roger Federer.
Those wins took the Belgian to number seven in the ATP rankings, just behind world No. 5 and 2017 Wimbledon finalist Marin Cilic (Croatia) and world No. 6 Dominic Thiem (Austria), who are also playing at Kooyong.
Pablo Carreno Busta from Spain is the fourth top-ten man in the Kooyong draw, which also features big-serving South African Kevin Anderson who comes to Melbourne after making the final of the 2017 US Open.
Nadal will complete the tennis Big Four to have played to the spiritual home of Australian tennis with Djokovic, Roger Federer and Andy Murray all having played at the historic venue that is celebrating its 30th anniversary since local legend Pat Cash won in 1988.  Djokovic played in both the 2010 and 2014 Kooyong events.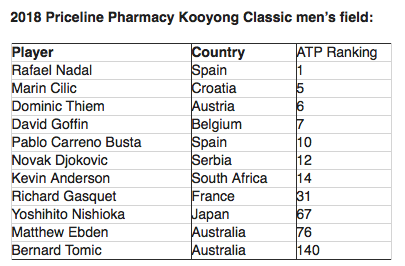 Australian teenager Destanee Aiava heads the women's field ahead of her second home slam appearance, along with two former top 10 players in Andrea Petkovic (Germany) and Belinda Bencic (Switzerland) who displayed impressive form in partnering Roger Federer to victory at the Hopman Cup on Saturday. The trio will be joined by one additional player who will be confirmed on Monday.

2017 Priceline Pharmacy Kooyong Classic
Tuesday 9 – Friday 12 January 2018
Kooyong Lawn Tennis Club, Glenferrie Road, Kooyong
Fans can engage with the tournament via the event's social channels as follows:
www.instagram.com/kooyong_classic 
www.facebook.com/KooyongClassic 
www.twitter.com/KooyongClassic
Premium packages and spectator tickets are on sale via kooyongclassic.com.au.
Ticket prices start from $25.00 with kids 16 and under free.
The 2018 Priceline Pharmacy Kooyong Classic is proudly supported by principal partner, Priceline Pharmacy, with support from Agnew Wines. The Seven Network will broadcast all four days of Kooyong's action right across Australia.