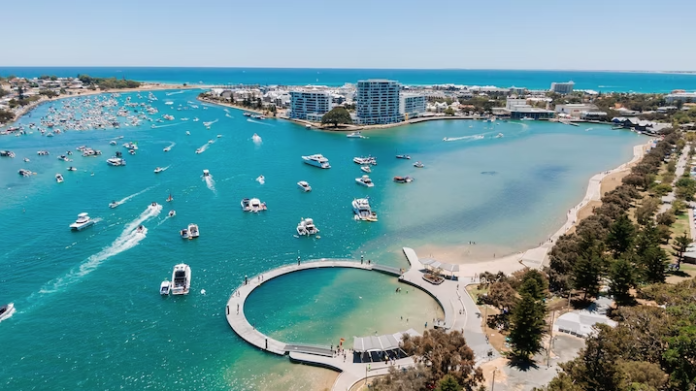 In a historic victory for Western Australia, the coastal town of Mandurah emerged as the winner of the prestigious Australia's Top Tourism Town Award. This achievement marks the first time a Western Australian town has claimed the coveted title.
Shaun de Bruyn, chairman of Australia's Top Tourism Town Awards, acknowledged the fierce competition this year but highlighted Mandurah's unique attributes as the key to its success. The town is renowned for its natural beauty, abundant holiday activities, and stunning waterways. The internationally significant wetlands, The Estuary, and Peel Inlet serve as spectacular playgrounds for boating, fishing, and wildlife enthusiasts, contributing to Mandurah's allure as a relaxed and perfect holiday destination.
In addition to Mandurah's win, the neighbouring town of Dwellingup, just a 40-minute drive inland, secured gold in the Tiny Tourism category. Dwellingup's picturesque countryside features meandering rivers and beautiful walking trails, making it a nature playground for outdoor enthusiasts, with mountain bike and hiking trails winding gently through the Darling Scarp.
Although Western Australia celebrated two gold wins, it narrowly missed out on the Small Tourism Town category, with Queenstown in Tasmania claiming the top spot. Airlie Beach in Queensland and Sorrento in Victoria secured second and third places, respectively.
Other notable contenders in the competition included Ballarat in Victoria and Caloundra in Queensland, taking the second and third spots, respectively, in the Top Tourism Town category. In the Tiny Tourism Town category, Victoria's Aireys Inlet and New South Wales' Huskisson claimed silver and bronze, following Dwellingup.
The 2023 awards, presented by the Australian Tourism Industry Council and sponsored by Tourism Australia and Qantas, were determined through a combination of people's choice votes and evaluation by an industry judging panel. Western Australia's double-gold win underscores the state's growing prominence as a must-visit destination. With iconic attractions like the Giants of Mandurah exhibition and the allure of cerulean blue waters, these award-winning towns provide even more reasons to explore Western Australia.