With newly renovated rooms, located in the heart of the city, Hotel Grand Chancellor is the perfect place for your stay in Adelaide.
Since it first opened in 1991, Hotel Grand Chancellor Adelaide has offered its guests comfort and relaxation. Located on the iconic Hindley Street, the hotel is close to many Adelaide tourist hotspots. Adelaide Oval, Festival Theatre, Adelaide Casino, Adelaide Convention Centre, Rundle Mall, Museums and Galleries just to name a few. The city's vibrant bar scene featuring Leigh Street, Peel Street, Bank Street and Gilbert Place is merely minutes away, as is the Adelaide Central Market and Gouger Street eateries via a short tram ride.
 With newly renovated rooms, Hotel Grand Chancellor Adelaide is perfect for your next staycation, family holiday, business trip or romantic vacation. The renovation has delivered on their commitment to environmental sustainability. Each room radiates natural light, bright décor, energy-efficient LED room lighting, modern artwork and new furniture and furnishings. Their new rooftop chiller units are 50% more water and power efficient. When taking their new power-regenerative lifts, see highlights of South Australia tourism and natural wonders on the beautiful photographic wall panels.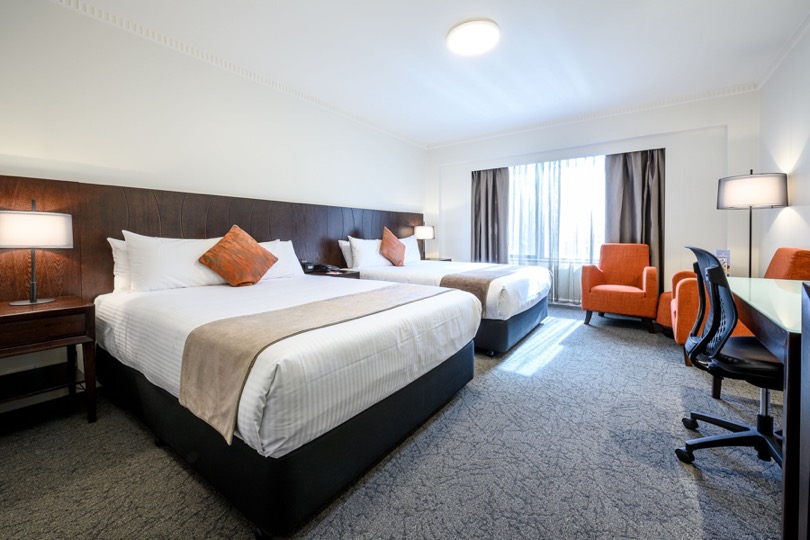 When visiting Adelaide, you can't forget to experience the best of South Australia's food and drink. Hotel Grand Chancellor gives you the opportunity to experience and enjoy a bite-size piece of SA without having to leave the hotel. Haigh's Chocolates, Farmers Union Iced Coffee, Bickford's Soft Drinks, Charlesworth Nuts, beverages from the likes of Coopers, Vale Ale and Prancing Pony, and for the wine connoisseurs, Henschke, Rockford, Jacob's Creek and Penfolds wines.
Book your trip to Adelaide and stay at the Hotel Grand Chancellor. With their new environmentally friendly renovated rooms, they are bringing the best of South Australia to you.