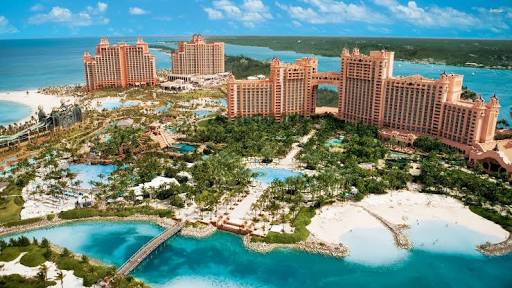 Located on Paradise Island in the Bahamas, the Atlantis Paradise Island offers so many activities that it's probably one of the only resorts in the
world where you'll need a map to even get around!
The accommodations here range from moderately priced to rather expensive. Families on vacation here should consider staying in the Coral Towers, which is the most centrally located tower at Atlantis. The Coral Towers is also closest to the Predator Lagoon and the Lagoon Pool as well.
Atlantis Paradise Island Resort is packed with activities for guests of all ages. The eleven pool areas, miles of sandy beach, and Neptune's
Water Toys Hut give guests access to many water-based activities. Neptune's provides non-motorized water sports which include water bikes, pedal boats, kayaks, and even snorkeling equipment rentals.
Parents will adore Atlantis, as it has two different programs for children,
the Aqua Tots program and the Discovery Channel Camp. The Aqua Tots program was designed for children 3 years old and up, while the discovery camp is for kids 4-12 years old and ranges from a 1 hour program to one that includes lunch and even dinner.
All kids love the six different water slides and the marine exhibits. This can keep kids busy for hours and hours, and are pretty fun for the parents
as well. In order to enjoy the slides, kids must be at least 48 inches tall.
A beach vacation at Atlantis is something your entire family will love. There is something here to keep everyone occupied, from the beaches to fun on the slides. If your family enjoys the best of fun and the beach, Atlantis is something your whole family will enjoy – and love coming back to.