For the last 40 years, painting has been an integral part of Terina Jones' professional life in the design industry. She has been both a photographer and a manager in advertising which required a keen eye for set design, ads, food styling, furniture placement, and set styling. The client needs she has been exposed to over the years have been diverse – and her eye for colors and space reflect that experience.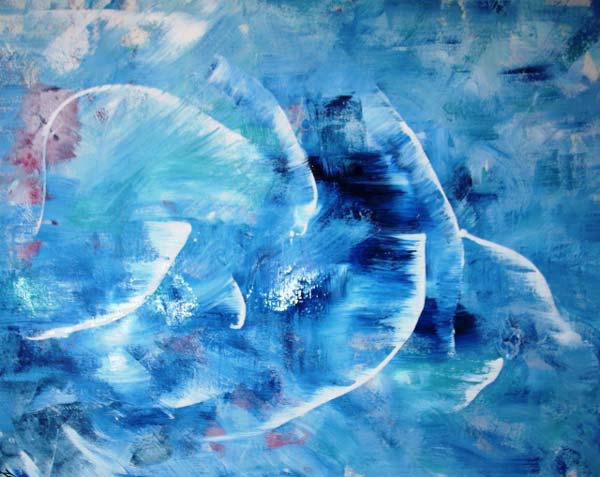 Jones emerged into the public art arena in September of 2015 and, in her words, "it's been quite full on since then." She placed in the Top 35 artists on Bluethumb for both June and July, despite being registered to the online gallery for only a few months. Jones' daughter is also heavily gifted and her transition into the public fine art world was actually prompted by her daughter's desire to do something together.
Jones framed up some of her work, entered some competitions, and immediately started getting recognitions such as a "First" in acrylic/oils at the Baulkham Hills Art Society Art Show (Orange Blossom Festival) and both "Best in Show" and "Commended" in traditional oils/acrylics at Castle Hill Art Society (2016).  In addition, at the prestigious Northern Suburbs A & H Society 2016 Competition judged by Bob Baird, Jones received a "First" in Seascapes, a "Third" in Still Life, and a "Commended" in Mixed Media.
Jones begins with a color palette selection. From there, she starts working and the painting evolves through the application of both physical and emotional energy. She is quite unique in rarely working from visual stimulus. Her semi-abstract paintings are a product of pure imagination. She generally has a brief idea of what she wants to create. If Jones sets out to do a seascape or a building, it is generally sparked as a need to tell a story. The paint is just a medium to capture a snippet of a film playing in the artist's head. Jones explains that painting is, "[her] dancing on the canvas."
When it comes to business and art, Terina has some pretty inspiring advice. She says, "I think if you're passionate about something, then it gives you the belief to actually go and do it. It comes from deep within your soul. If your passion is really from that depth, then don't ignore it." She continues, "You can't be casual about it. It's your calling. One day it will all come together."
Beyond the process of painting, Jones states that there are two other joys associated with her involvement in the arts: the joy that her art often provokes on the faces of the viewers and working with clients on commission projects. With her background in management and the design industry, Jones finds that she works very well with clients to create pieces that even clients aren't always quite sure they wanted. She has an intuitive way of working on commission projects. The manifestation of that process is extremely rewarding.
After only a single go at submitting to the Royal Art Society at Lavender Bay, Jones was accepted as an exhibiting artist. She is currently exhibiting at the Hornsby Central Library, with her Nature and Life Energies Exhibit. The exhibition is running from 30 July to 26 August and is a can't-be-missed event for interior designers. Her large, framed works are the perfect center piece for homes of all persuasions.
Check out Terina Jones' extensive Bluethumb gallery here and her Royal Arts Society page here.
Terina Jones was also recently awarded with a First and Commended in Contemporary/Mixed Media, Second and Highly Commended in Acrylics/Oil and
Highly Commended in Pastels/Inks/Charcoal at the Baulkham Hills Art Society Orange Blossom Festival.