Taco night is a time-honored tradition in my house. And it usually involves browning up some ground beef with the spice packet that comes in the El Paso taco shell box, baking the shells in the oven, and then dicing up all of the typical toppings: black olives, red onion, tomato, lettuce, jalapenos. Add a bowl of guacamole, salsa, and sour cream and that's dinner for three hungry kids and whatever other relative turns up.
But now that we're all grown up with our own places, our own kitchens, and slightly more developed palates, it's time to mix it up.
Here are a few ways to mix up taco night:
1. Korean Bulgogi Tacos
These Korean-inspired tacos take a little bit of time, but are wicked easy and super impressive. Make extra of that soy-lime dressing, you'll want it on every vegetable you can find tomorrow.
2. Spicy Shrimp Tacos with Garlic Cilantro Lime Slaw
These spicy shrimp tacos both look and taste incredible. Do yourself a favor and double the whole recipe. 2 small tacos each? Please. Do I look like an amateur?
3. Veggie Tacos with Avocado-Tomatillo Sauce
Veggie tacos with avocado-tomatillo sauce. Avocadoes, tomatillo, need we say more? And the vegetables can be seasonal. Can't find japanese eggplant? No worries. Try it out with whatever's on clearance and your local market.
4. Chicken Tacos
How about some chicken tacos that will have the kids asking for seconds and aren't terrible for them. My favorite part about this one is that the filling reheats so well. Make for Tuesday and enjoy again on Thursday.
5. Chorizo-Sweet Potato Breakfast Tacos
Breakfast for dinner. Breakfast for lunch. Breakfast for Midnight. Breakfast for breakfast. There is never a bad time for breakfast, especially when breakfast includes lime crema, sweet potatoes, and crispy, spicy, chorizo. Chorizo-sweet potato breakfast tacos: for when you feel like waking up in Texas.
6. Grilled Octopus Tacos
Don't freak out! Grilled octopus, when done the right way, is actually beautifully tender and holds flavors together gorgeously. Get the recipe here and spice up taco night.
7. BONUS: Choco Tacos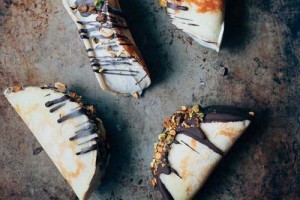 This is dinner. Ice cream, chocolate, nuts of your choice, even sprinkles if you so desire. Okay, it doesn't have to be dinner. But adult-up your childhood with these fancy choco tacos that are SO MUCH EASIER THAN THEY LOOK. Food52 comin' through. Just. Take our word for it and make these.