Ireland is a legendary destination, and we'll take our chances by saying probably unlike anything you've ever experienced before. This "Emerald Isle" is a pretty accurate representation of all that is beautiful (and green) in the world. And guess what? You don't even have to travel that far to see it. This place packs a punch.
If you're ready to go full throttle and forge an extraordinary path filled with spectacular valleys, vibrant culture, a buzzing live music scene (or just find an Irish local to have a pint of Guinness with), rest assured, we've got you covered. Here are some truly authentic experiences in Ireland that are guaranteed to blow your mind.
Explore the vibrant city of Dublin.
Described to be as "friendly as a village and as intimate as a pub" it's been twice voted the friendliest city in the world by Trip Advisor. Just off Wexford Street lies a strip of iconic pubs and Whelan's is one of them. This pub has hosted over 25 years of live music and played a huge role for the beginning of Ed Sheeran's career.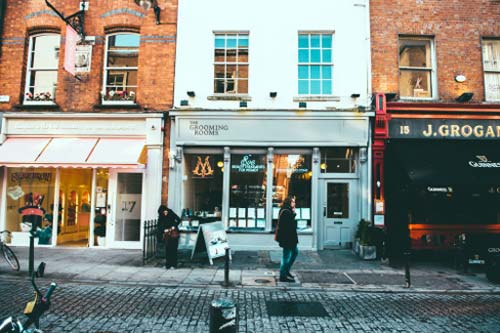 Every year, without a doubt St Patrick's Day in Ireland is the party of the year. Cities and people around the globe call on their Irish heritage, however tedious, decking themselves out in their favourite shades of green and shamrocks, whilst 180 iconic international landmarks illuminate across the world. As the Irish saying goes, "there are only two kinds of people in the world, the Irish and those who wish they were."
Everything literally turns green in Ireland, matched with a four-day party and complete with traditional music, dance, food and of course – the infamous parade in Dublin.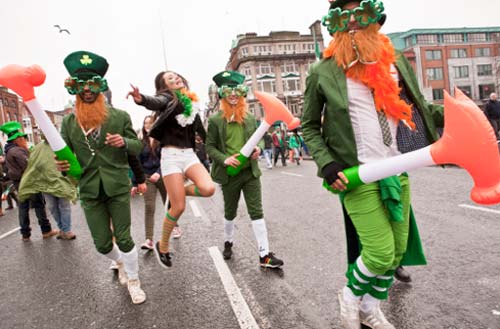 Check out the live music scene in Belfast.
It has been graced with legendary artists from the likes of Roisin Murphy to Australian singer-songwriter, Matt Corby. If live gigs and intimate settings are your jam, Belfast packs a punch pending your taste in nightlife, with club nights operating 6-days out of 7. The Garrick is one of the oldest pubs in Belfast with plenty of events on during the week, and an acoustic session with local artists on Saturdays at 9 pm in the front bar, whilst DJ's spin tracks out in the back. It also offers an impressive range of over 60 local and international beers, ciders and pints of Guinness to boot.
Hit up a traditional pub.
And soak up that Irish culture by finding an old school pub that is over a hundred years old fitted out with ornate decor, mirrors and marble. Step back in time at theBrazen head, Ireland's oldest pub in Dublin which dates back to 1198!
See natural landscapes that'll make you feel like you're on the edge of the Earth.
Stand tall at the Cliffs of Moher, which are approximately 214 metres above sea level, and take a scenic drive along the rugged Causeway Coastal route. The untamed terrain of Ireland will leave you feeling alive and is a totally unmissable natural attraction.
Get the Game Of Thrones fix your soul deserves.
And discover a part of Northern Ireland / the Seven Kingdoms. Whether it's the dark hedges that date back to the 16th century, or the Giant's causeway with its 40,000 basalt columns supposedly created by giants, there's unparalleled beauty to be found in Ireland you can't get anywhere else in the world.
Delve deep into the not-so-obvious Irish ancestry.
Who would have thought burial mounds, stone circles surrounded by hungry cows and scattered 'passage tombs' would be a part of ancient history, right? Newgrange is one of Ireland's greatest and oldest burial sites, and is now listed as a UNESCO world heritage site. This site is a large circular mound complete with stone passageways and chambers inside, whilst outside 97 massive kerbstones lay silently, adding to the historical weight of the area. And to think this site was constructed 5,000 years ago! Impressive to say the least.
Fill up in mouthwatering Irish cuisine.
Fancy hearty potato dishes, artisan cheese, craft beer on tap or pulled candy for that sweet tooth of yours? Ireland's got your foody jam down to a T.
If you are a die hard spud fan and love one-of-a-kind festivals, why not check out the comber potato festival in July, which showcases local, fresh and seasonal potatoes. It draws crowds of up to 7,000 and is free to all.
Pour yourself a Guinness at a local distillery.
No Irish trip would be complete if you didn't learn about the fascinating history of the legendary Guinness. Don't miss a once in a lifetime opportunity to find out more about this world-class and iconic brand that is a part of Irish culture and traditions.
Originally published on Contiki.