It's no wonder we have an entire holiday set aside for enjoy chocolate. The decadence of the sweet is a densely historic pastime, even stemming all the way back to the Aztecs.
With Easter on its way, the celebrations are rearing up for a weekend of feasting, family and, more importantly, chocolate. And while the Easter long weekend has so much more meaning to it than just the sharing of eggs, bunnies and bilbies, we can't help but get a little excited by indulging in an array of sweet treats.
Premium Chocolate Company prides itself in providing mouth-watering, indulgent chocolates, selling Lindt and Lindt-inspired goodies, from your traditional Lindt Easter bunny and Lindt Truffles, to PCC's own specialty recipes: chocolate coated treats, decadent eggs and bunnies in all sizes.
The store in Braeside, Victoria is comprised of a team dedicated to selling the best quality chocolate to their customers. The demand of quality chocolate requires time and effort, and Premium Chocolate Company use theirs wisely. From the cooling and storage processes, to the packaging and moulding. The team loves chocolate, and it shows in their products.
What's more, when you buy from Premium Chocolate Company, you aren't just buying from another passionless retailer. The small team pride themselves in superior customer service, a dense knowledge of chocolate and its needs and a personal touch you won't find at the supermarket or department store. If you value customer care and passion, look no further than Premium Chocolate Company.
Premium Chocolate Company stocks an abundance of Lindt desserts; a variety of eggs in all sorts of exciting flavours, gift boxes, packs of specialties chocolates and their own delicious bunnies, big and small. Why not treat you and your family with the huge 2kg milk chocolate bunny? Or, just keep it all for yourself? There's nothing wrong with treating yourself, right?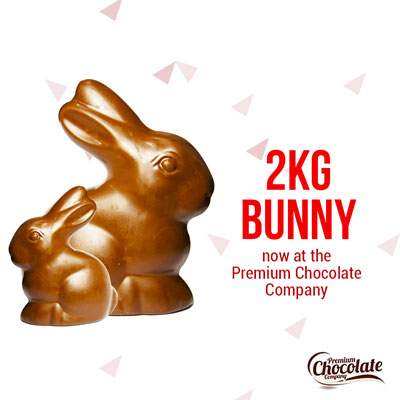 So take some time to check out all the goodies in store at Premium Chocolate Company. You can visit the friendly team over at their shop in Braeside, or check out their website to see what wonders you can order. Have a browse, buy some chocolate delights, and take full advantage of this glutinous season.
If you're still looking to stock up on gifts for the weekend, check out the Premium Chocolate Company Easter range online, and grab your last minute chocolate treats. Premium Chocolate Company will be open every day leading up to Easter, so you can't miss out!