In an ever growing health conscious world, we're all looking for our next meal to be nutritious – without loosing the deliciousness.
La Sen, a restaurant in the Eastern Suburbs, is serving up unbeatable authentic Vietnamese cuisine that has all the flavor without any added guilt.
Jessica, left her long-term finance job to follow her dreams and combine her two passions of food and travel, opening the doors to La Sen in October 2014.
After moving to Australia from Vietnam at 14, Jessica hoped to recreate the taste and culture of her home cuisine for anyone craving something a bit exotic without the need to hop on a plane over to South-East Asia!
Originally from Hanoi in Northern Vietnam, Jessica has made sure to create a mouth-watering menu that takes visitors on a food journey with every bite from north to south.
The diverse menu features everyone's favorite go-to giant bowl of Pho, with the added bonus of handmade Crunchy Northern Style Spring Rolls and Crispy Pancakes made with mung bean; an ingredient most diners won't find on their plate most nights of the week!
You can taste the love and care La Sen puts into their food, and you can even see the difference! While other restaurants might skip the labor intensive process of making the broth for Vietnam's prized Pho, La Sen makes their rich soup with ox bone simmered for 24 hours – creating a lighter broth.
Staying true to the authentic flavors and ingredients is essential to cooking food that has customers coming back again and again. There's no 'fusion' spin on any of the delectable dishes at La Sen and you'll only find choices on the menu you could actually order at a place if you found yourself suddenly transported to Ho Chi Minh city.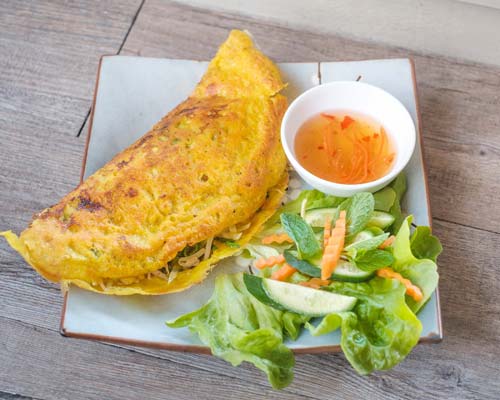 Vegans and vegetarians will feel right at home in La Sen with an endless selection of plant-friendly specialties, but if you're simply dying to try this or that sans meat, not a problem! La Sen will happily swap in tofu or extra veggies to make sure everyone gets a chance to take their taste buds on a Vietnamese food field trip.
With a menu that is virtually completely gluten free and full of greens, La Sen showcases the health benefits of ditching the food court Chinese food and making Vietnamese a weekly staple.
La Sen is dedicated to giving every new foodie not only an unforgettable meal but also a unique experience!
Put down the take-out menu, and head over to La Sen for a scrumptious meal full of all the nutrients that would make you mom proud!