What's for lunch?
Citrus marinated roast leg of lamb with yogurt chimichurri, mashed cauliflower and potatoes, sauteed asparagus and fresh fruit.
Is your mouth watering? 'Cause mine sure is.
However, you won't find this delicious meal at a trendy NYC eatery, but rather an upgraded soup kitchen serving up inspiring meals to the homeless with a needed dose of dignity.
For over 30 years, The Kansas City Community Kitchen has been serving its local homeless and underprivileged community with meals, but this winter decided a change was in order.
With the help executive chef Michael Curry, owner of the artisanal food business Lil' Bubba, the KCCK re-opened on February 5th, restaurant style.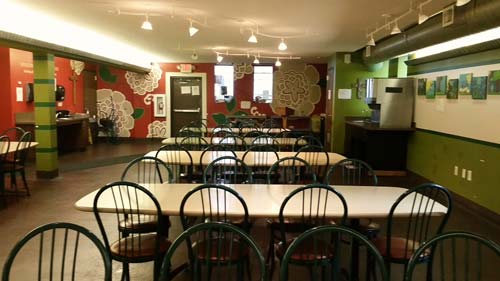 Curry, who at one point in life found himself living in poverty and eating at soup kitchens, teamed with KCCK president of Beau Heyen to create a safe and respectful place for people to eat despite the current hardships in their life.
Heyen says even after 30 years of service he felt, "pushed to do something more."
When a new customer walks into The Kansas City Community Kitchen, they are greeted by a host, seated at a table, presented that day's menu, and then a waitress takes their order.
Such simple acts of respect those of us used to dining out take for granted can mean the world to someone used to being assigned a number or waiting in line for a less-than-pleasant meal: treating people as patrons not problems.
All positions from prep-cooks to greeters are on a volunteer basis, with many local schools and organizations donating time to the great cause.
As Heyen explained, "It was really about dignity and respect and looking at how we serve. Instead of using the lines, we thought of other ways to be seated."
From 11am-2pm, Monday through Friday, the KCCK serves between 150-300 people and hopes to expand to breakfast soon.
Not only does this establishment, run by Episcopal Community Services, make food, they also hope to make futures.
Volunteers and diners alike are welcome to enroll in the 12 week Culinary Cornerstones Training Program that teaches basic cooking and restaurant work skills as well as financial lessons.
The course helps students land cooking apprenticeships and the final two months of the program includes a two-month internship in a Kansas City restaurant that requires a minimum pay of $13 an hour.
Curry said of the programs, "We want to be the place that Kansas City restaurants call when they need good help in their kitchens. Everyone has a right to be nourished and sustained, and we'll do that with both food and learning."
The Kansas City Community Kitchen has received praise for its healthy and nutritious meals that allow substitutions for dietary and even religious reasons.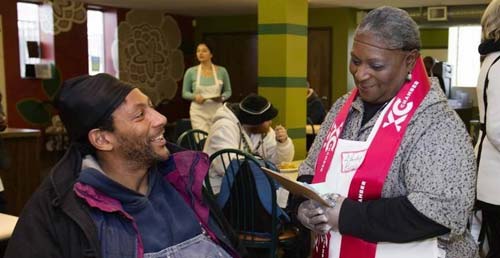 The menu tries to cut out added salt and sugar, and is high in nutrients which can help to eradicate health problems such as diabetes that may force a homeless person to make an expensive hospital visit.
Far beyond health benefits and learning possibilities, the Kansas City Community Kitchen is giving the homeless a place they can truly enjoy the experience of eating that so many of us take for granted.
As one father noted, "I never get to take my kids to a restaurant and it was wonderful to go some place that felt real."