With fresh fruit on the market, now's the time to get creative, so crank up those summer vibes and cool off with one of these delicious non-alcoholic drinks!
Watermelon Slushie
Nothing quite says summer than a fresh, cold juicy watermelon. Now you can enjoy this sweet summer fruit in more ways then one by transforming it into a refreshing treat sure to be a hit! With secret ingredients like cucumber, mint and lime, this slushie is bursting with flavour and will be gone so fast you'll have to make another batch!
Check out the full recipe here
Kiwi Lemonade Spritzer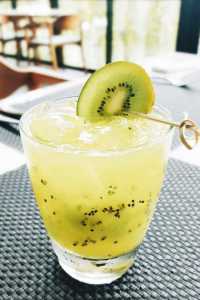 Kiwi fruit is always a crowd favourite in summer. It's refreshing and goes well in a lot of drinks as well as adding great taste to your fruit salad. This recipe combines kiwi and lemon in just the right ratio to create a flavour explosion in your mouth. Not too bitter not too sweet, don't trust me? Give this spritzer a go and see for yourself.
Find the recipe here
Virgin Mojito
This one goes down as one of the classic summer drinks that almost everyone can enjoy. The great combination that is lime and mint is a match made in heaven, pair that with a cute stripy straw and we have ourselves a summer afternoon winner. Simple, yet effective.
Try this one out with the recipe here
Raspberry Lemonade Spritzers
This ones for all you raspberry lovers out there, because summer means this delicious fruit is back in season! Using all things raspberry (yes even raspberry jam) to create this flavoursome treat, you'll realise this spritzer is perfect for summer!
Get your raspberry fix here
Mango and Raspberry Punch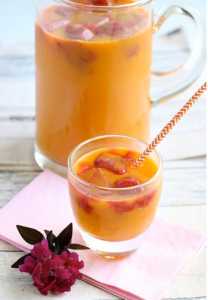 When someone says mango the first thing you think of is the distinct tropical smell that's so unique. Pair this with some raspberries and blend them together, and you're left with a one of a kind summer fix that's fruity and refreshing. Complete with mango ice cubes, you'll be craving more before you've finished reading the recipe!
Find out how to make this punch here
Virgin Frozen Margaritas
With these frozen margaritas only taking minutes to prepare, it would be a shame not to serve them at your next gathering. With the tartness of lime and bitterness of the grapefruit juice, the fancy sugar rimmed glass not only serves as decoration but pulls the whole taste sensation together!
Taste these unique flavours with the recipe here
Double Apple Iced Tea
There's nothing quite as refreshing a glass of iced tea on a hot summers day. Why not take that up a notch and try this double apple ice tea recipe instead? The fresh apple added with the apple juice will give you an intense fruity flavour leaving you totally refreshed. Try it I promise you wont be disappointed.
Get the Double Apple Ice Tea recipe here
Pomegranate Mojito
Pomegranate is not a common fruit used every day, but it's one of those ones with amazing flavour and potential when you figure out how to use it! This mojito mixed with lime, mint and pomegranate is the perfect way to end a long summers day. You'll be wanting more as soon as a drop hits your tastebuds!
Find the recipe here
Strawberry Lemonade
Strawberries are easily one of the most popular fruit for summer. Their flavour and sweetness captivates people into eating a punnet at a time. This strawberry lemonade will have you thinking the same thing. It's sweet, fresh and you'll be in danger of drinking the whole canister! Add lemon and mint leaves to garnish and you've got yourself an Instagram worthy afternoon drink that tastes as good as it looks!
Get the full recipe here
Sangria
If you're a lover of all fruits then look no further, this one's for you!
Using a mix of seasonal fruits and grape juice instead of the traditional wine, this summer sangria has an intense flavour and a beautiful array of colours that will have you in the summer spirit in no time! This one's sure to be a hit!
Get this fruity recipe here
So next time you're having a summer celebration, make sure you're sipping on one of these cool treats and impress all your guests with your bar skills. Trust me, you wont be disappointed with any of these this summer!