CrowdInk had the chance to sit down (virtually) with Vicki Fletcher, a freelance content producer and wedding photographer, to talk about entrepreneurship, following your passions, the anxiety of living paycheque to paycheque and some of the ways to overcome the big obstacles in setting up your own business.
CrowdInk: How did you get into business? Did you always have an entrepreneurial mindset? Or did you just fall into it?
Vicki Fletcher: Well, it took me a while to get there. I found that I was spending all of my time working on side projects that I was really passionate about, and eventually they just took over my mind. I still worked full time for about three years sort of fighting the inevitable, before realising that it was never going to work because all of my time and energy was going into my writing and photography, and the day jobs were just paying the bills for me. But I took the leap and have managed to make a living working for myself, and I couldn't be happier.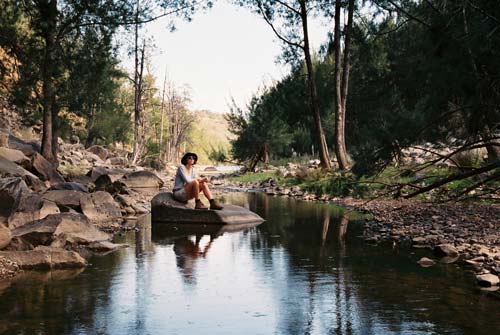 CI: Tell us the inspiration behind your business.
VF: I am both a writer and a photographer. I started doing both when I was living in Paris on university exchange by way of a travel blog for my family and friends. That lead me to a gig travelling around with Rail Europe blogging for them for the summer. That's when I realised this was something I really loved. Today, I'm a freelance content producer, writing content, and creating imagery and social media content for clients. I work with design agencies, architects, magazines, health professionals, lawyers, and other small businesses. Of a weekend (and every other spare hour I have!), I am a wedding photographer with my partner Jacques, shooting beautiful weddings in digital and film all around the country.
CI: What was the biggest challenge you faced in business? How did you overcome this?
VF: I'm still quite new to this game really, so standing my ground, and believing in myself are probably the two biggest challenges. I have been lucky enough that clients have come to me offering full time work, which is difficult to turn down when there is financial benefit and stability, but I have to stay true to what I want to do and why I started doing this in the first place. Sometimes, I let my anxieties get the better of me and I start to wonder where the next paycheque will come from, or if I will ever land that dream client. But I'm trying to get better at just working hard and trusting that the universe will sort the rest out. When you fight something that's meant to be it's a lot tougher than it should be.
CI: What makes your business unique to other similar businesses in the same industry?
VF: As a writer and content creator, I am very good at emulating a brand, taking on the right brand voice, and listening to exactly what the client wants. I think it's very important to get as much information from the client as possible, even if that doesn't come verbally from them, but just observing, soaking up the brand vision and using that to drive my creativity.
As a photographer, I am obsessively drawn to colours and details, which means I am quite good at seeing and capturing things others might not notice, which really makes a campaign or shoot. For our fine art wedding photography, working as a duo, we're able to document the day completely, meaning we don't miss anything, and often our couples will come back to us saying they didn't even realise we were there for special moments, which is how it should be, relaxed and natural. Shooting film is also really special, a film photograph feels like you're there in the picture. The details, the colours, the depth are all so intense, which you just don't get in digital. That's what you want for your wedding day, it's all about reliving that feeling after all.
CI: What's your favourite accessory for the home?
VF: Houseplants! I am utterly obsessed. I have indoor plants, succulents and vases of flowers everywhere. There is nothing more calming than having nature inside, and the smell is divine.
CI: What's your top business advice for aspiring entrepreneurs?
VF: If you're not happy to do the nitty gritty jobs as an intern, or don't spend the time managing your own finances and paperwork, entrepreneurship will be hard. No matter what you love and what you're doing, you're always going to have to take care of the business side of it. Get yourself a good accountant and learn to be super organised. Life will be so much better.
Check out Vicki's website here and her wedding photography business here.