ACdO is the platform from which the Studio Alvaro Catalán de Ocón produces and distributes some of his most personal pieces. For us, this close relationship between designing and making allows the freedom to experiment and try out with new projects, which otherwise would be difficult to develop within the constraints of a client commission.
In each new project, the design process is geared to guarantee maximum honesty of processes and materials in order to offer not just an object, but a sensation. All of our pieces are produced glocally, using high-end industrial processes and specialized artisans, and assembled with great care in the studio to offer the quality and finish we demand in order to create a long-lasting collection of products.
Here are a few of our favorite designs:
Riad Table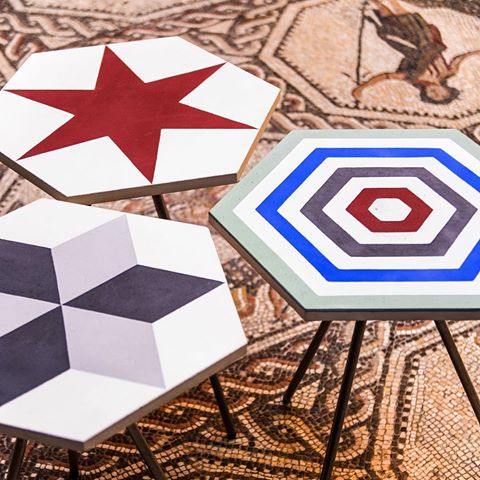 Riad table is an enhancement of the traditional manufacturing process and graphic motifs of hydraulic tiles. These concrete tiles emerged in Mediterranean Europe in the early 20th century as an industrial response to old mosaic floors. The drawings of RIAD are inspired by traditional designs that can be found from the Alhambra of Granada to the Great Mosque of Damascus.
The idea behind this product is to decontextualise a construction material –the hydraulic tile– by isolating and objectifying it. A great part of the designing process lies in resolving what is not visible to the naked eye. Therefore it has been necessary to research more technical materials to lighten, reinforce and resize the product, as well as to intervene in its traditional manufacturing process in order to accurately place a metallic piece which works as a node to reinforce the object and, at the same time, to position the legs in perfect geometry.
The result is a table for indoors and outdoor whose hexagonal shape offers the possibility to reproduce a "raised floor" combining as many pieces as desired.
PET Lamp Project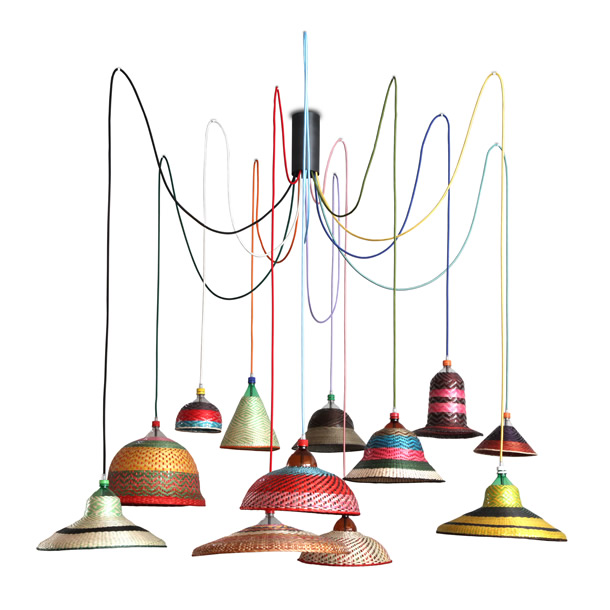 PET Lamp Project emerged as the possibility to approach a global problem (the plastic waste) with a local activity (the basket weaving tradition). Thanks to teamwork, we managed to create a very popular product that has been a growing sucsess since its presentation at Rosanna Orlandi in 2013.
In 2011, Alvaro Catalán de Ocón took part in a project focused on the reuse of PET plastic bottles. He addressed the plastic waste issue in the Colombian Amazon turning a short lifespan object into a product enriched by the local culture. Collaborating with artisans from the Cauca region displaced by the guerrilla war and using traditional crafts and materials the PET Lamp Project was founded. In 2012, the Colombian experience was launched. In 2013 it expanded to Chile and since then it has broaden its horizons to other continents: 2015 PET Lamp Collection is made in Ethiopia and 2016 brand new collections are made in Japan and Chile.
Rayuela Stool
A stool is basically lifting up the ground.
Traditional tile designs can spread infinitely by just repeating a single shape, creating patterns by combining different colors of the same material. The most efficient form, offering the greatest possibilities, is the rhombus. Three of them make a hexagon which is the best way to cover a surface.
Using three colors you get a fascinating optical effect. Putting together these two principles we obtain the idea for this product: making a stool from a single basic piece (a leg with 1/3 of the seat), which repeated three times becomes a stool and many of them in combination create a borderless surface with infinite pattern combinations.
Check out Alvaro Catalan de Ocon's full line here.