LunarSand swimwear designer, Ruby Licciardi, grew up in the country town of Bowraville, running wild and free, going barefoot to the local school and immersing herself in creativity and design.
From an early age Ruby was always drawing, making masks and sewing. "I sewed the first of many outfits at the age of 9 and years later my mother gave me a sewing machine of my own as a high school graduation present. After graduation, I moved to Sydney from Bathurst to study a Bachelor of Design at the College of Fine Arts," she says "so I guess a fashion design career was always on the cards!"
Ruby spent six years studying part time and graduated from COFA majoring in textiles and jewellery. At the same time she was also starting small businesses and gaining experience in various jobs in the design industry as a stylist, digital print designer and teacher. She extracted creative inspiration from everything in her world, using all senses to create vivid and detailed sketches, paintings and drawings that would ultimately create the LunarSand fabric and garment designs.
While on her creative journey, Ruby fell in love, married Asher and had baby Atticus, now six years old. It was after the birth of Atticus that Ruby, suffering from perinatal depression, used design to help manage the struggle.
"I was always a creature of the night, so I found solace in designing baby clothes during the day when Atticus slept and setting up my heat press under the stairs of our small Neutral Bay apartment at night, to make the garments." Her first label, Max Licciardi, was named after her beloved grandfather, Maxwell Pritchard.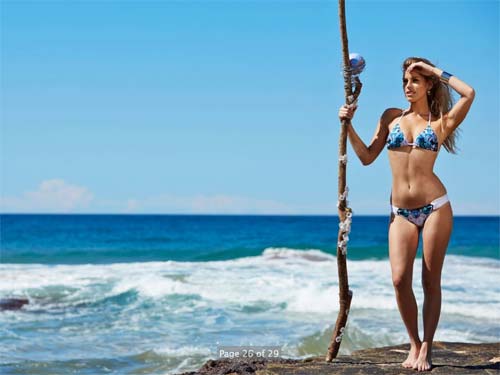 "My grandfather was the most honourable man I have ever known and I wanted to honour his name in my own small way." After selling at local markets and featuring in the fashion pages of Australia's leading parenting magazines, Ruby realized how valuable the creative outlet was, not only to her sanity, but also to connecting with the community and the people that surround and inspire her daily.
The swimwear label LunarSand was born in 2015 on the beach at Seal Rocks, after hours of chatting and planning with Asher, while Atticus played in the sand. Ruby wanted to follow her dream and, with Asher's support, prepared to start her next venture.
"The name LunarSand arose from the concept of the strength and energy that is drawn from the moon and the earth (sand) which then creates wholeness and a sense of magic". Feeling very connected to the full moon and its effects, Ruby embraces the wild, creative and energetic effect the full moon has on people and incorporates it into the designs for her tribe of empowered goddesses.
"I feel a personal connection to the Lunar as many significant moments in our lives have been highlighted by a full moon. I met Asher on a full moon, Atticus was born on a full moon and coincidentally, my first lookbook was shot on the week the stars and the moon were aligned!"
Raised by a single mum, Ruby credits her mother with passing on her values – inner strength, positive energy and dedication to family and community. "It wasn't always easy raising me on her own, but despite the financial and emotional challenges she always rose above everything with such grace. She was and still is, one of my biggest inspirations."
As part of the LunarSand range Ruby has also designed a chic sports bag. The stylish drawstring backpack is ideal for beach, city and gym activities and 100% of the proceeds are donated to charity, including beyondblue, a national organization working to create an Australian community that understands depression and anxiety and empowers people to seek support.
"I chose beyondblue because a challenge of depression is being able to bring yourself to talk to people about what you are going through and dealing with the stigma attached. There can be such a sense of fear and failure and it's so important to have communication and support in these instances."