Urban Elegance
Spicers Potts Point exudes charm, capturing the iconic elegance of historic Sydney in its façade and blending it with urban luxury living. The thoughtful and elegant design, make the retreat feel like a home and not a hotel. Part of Spicers urban ideal is its proximity to the city. It is a 15-minute walk to Sydney Harbour, but still far enough out of the hustle and bustle to allow guests to truly relax.
All rooms are adorned in natural light and tastefully decorated. Many of the rooms feature original decorative fireplaces and high ceilings, setting it apart from the modernised hotels in Sydney's CBD.

The Room
Spicers Potts Point has 16 modern and stylish rooms and 4 luxurious suites on offer, from the Queen room, to the Luxe King Room and if you're feeling decadent, the Victoria Terrace Suite. The room features a premium king-bed and opens up onto your very own private terrace, perfect for unwinding after a busy day and taking in the gorgeous leafy surrounds. All rooms come with complimentary WIFI, a mini-bar, and safe, flat-screen TV and Bose Sound link Mini speaker, to make you feel at home. Many of the rooms also feature decorative fireplaces, giving the décor a heritage charm. Freestanding bathtubs are a focal point of many of the ensuites, which also have premium rain showers. The décor will have you reminiscent of an island oasis with art adorning the walls and blue hues throughout the rooms.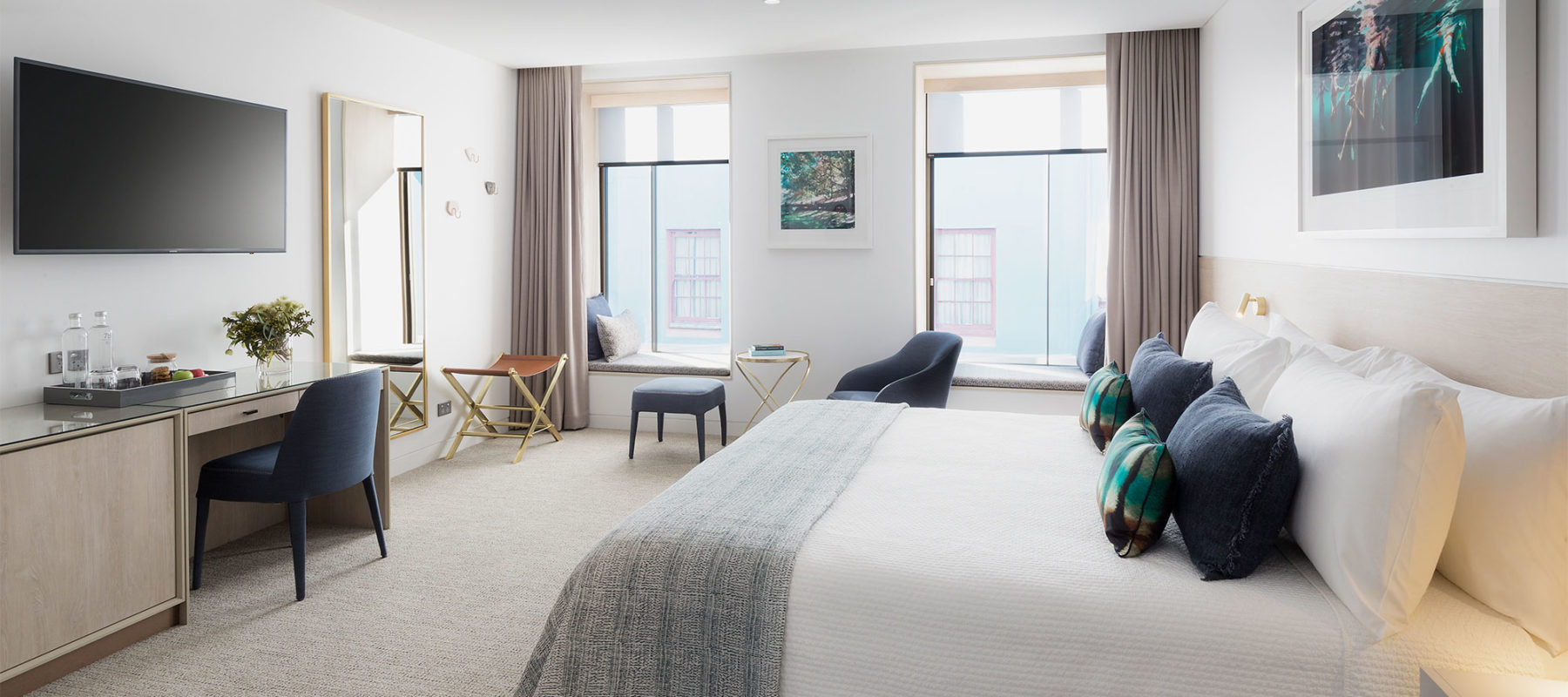 An a la carte breakfast is available to guests, and at the end of the day they can kick back in the guest lounge or unwind in the open bar, which is located in the impeccably styled reception area.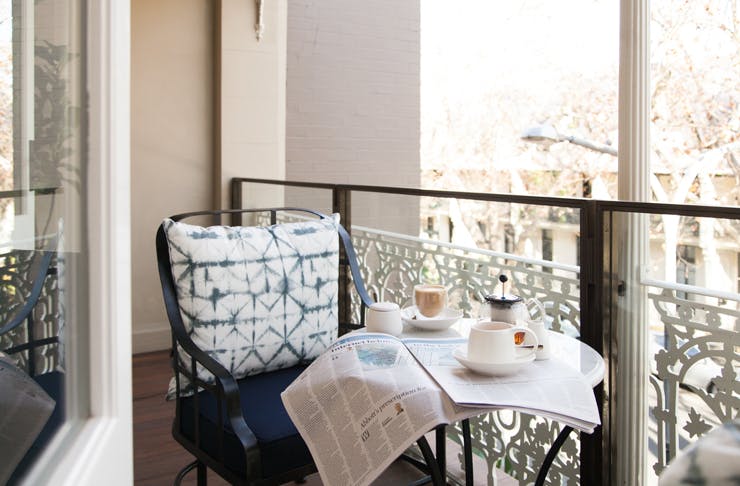 Why Potts Point?
Every is unique and offers guests a different experience. We have a range of retreats around Australia, but Potts Point is ideally located, offering the best of Sydney on your doorstep and an effortless blend of classic Sydney heritage character with a fresh contemporary feel. Spicers Potts Point is also home to exceptional customer service, with the welcoming staff ensuring your stay is as comfortable as possible.
The Potts Point location is perfect for business trips, featuring an abundance of creature comforts to help you relax after a long day.
Potts Point itself is a comfortable, eclectic neighbourhood, with amazing food and beverage experiences on our doorstep, many that will deliver in-room dining to Spicers.
Dining Out
Cho Cho San is renowned for its modern take on Japanese cuisine and is located right around the corner from Spicers Potts Point. Craving Greek? The Apollo is in the vicinity serving up modern Greek food, with a focus on simplicity, freshness and lack of pretention. The Apollo and Cho Cho San are both available as room service at Spicers Potts Point.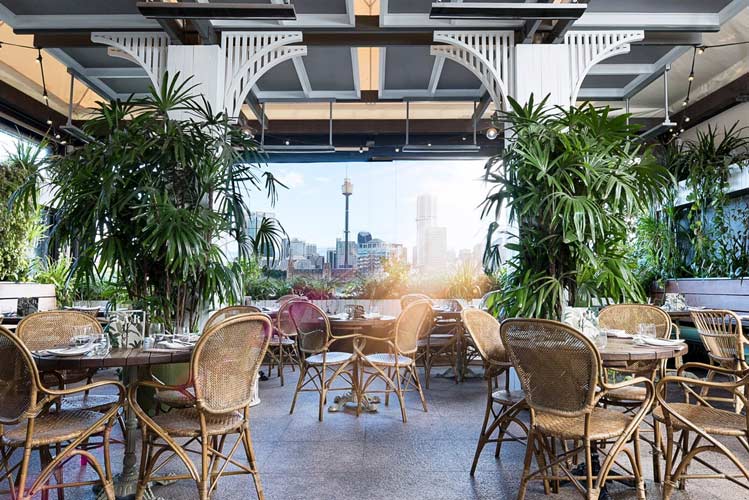 The Butler is a popular option for dining out in the area, and honours the historic 'Butlers Restaurant', which occupied the same site many years ago. The Butler features a forest-like garden, with various textures of foliage complimenting the original sandstone walls and creating a modern twist on the traditional colonial influence infused throughout the building.
Corporate Tailoring
Spicers cater to corporates, ensuring their stay is as homely as possible, and not merely another business day.
Each stay is tailored to the client's personal preferences; from the room they enjoy most, their favourite evening beverage to how they may enjoy their coffee in the morning.
Spicers provide a personable service, understanding the need for flexibility in regards to travel and flight schedules. The Hotel has been designed with the business traveller in mind, creating warm and semi-private spaces throughout the Hotel for guests to enjoy outside of their room for a meeting or just simply an inspiring space to work from on business.
A boardroom is available for hire, and the perfect location, why not do business in style? The hotel offers a luxurious and private venue for corporate and executive meetings based in the gorgeous tree-lined Victoria Street.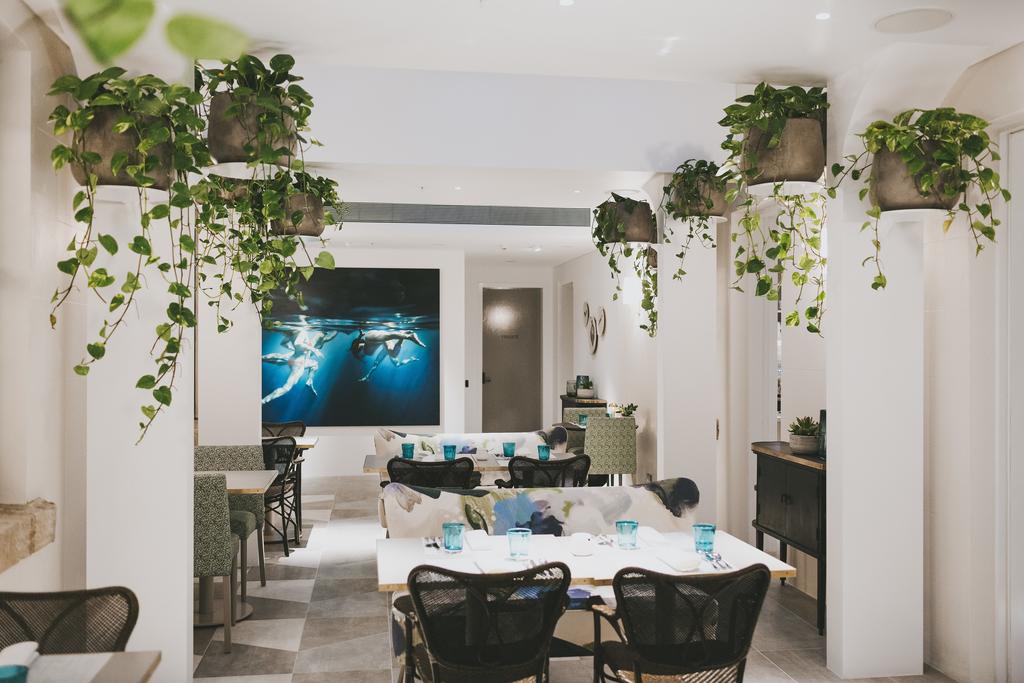 Current Offers
Spicers Potts Point currently has Two Night Winter Getaway experience available. Which includes;
A late checkout at 12pm, a welcome drink for each guest on arrival, chocolate dipped strawberries, complimentary bike hire, and one complimentary car park.
Starting from $399 per night-
Book before 30 June with travel from June- August.
Book your next stay here; https://spicersretreats.com/our-retreats/spicers-potts-point/