South Yarra's renowned Forrest Hill precinct is set to receive a new landmark with the arrival of Yarra One; a collection of luxurious residences developed by Eco World-Salcon Y1 Pty Ltd and designed by one of Australia's most influential and prolific practices, Fender Katsalidis Architects.
Rising gracefully above Melbourne's most exclusive locale, Yarra One is set to become a fixture on Claremont Street, and invigorate the Forest Hill precinct with a new level of design quality and amenity for residents and the local community.
A series of 268 impeccably designed apartments across 26 floors comprise the development, including one, two and three bedroom apartments as well as four penthouses.
Exuding elegance, Yarra One captures the style and grace of South Yarra through its unique combination of amenities, shared spaces and architectural beauty.
Upon arrival at Yarra One, guests and residents will first happen upon the building's open air atrium – a grand trellis with soaring timber frames and climbing greenery. Dappled light filters through the trellis by day, illuminating the public spaces.
Designed to bring a true sense of community to the building and the surrounding area, this atrium has functions as a meeting place, with retail space, cafes and seating areas.
"Positioned in the centre of the area's pedestrian traffic between the train station and Chapel Street, the atrium has been designed to be used and embraced by the community," says Karl Fender, founding director of Fender Katsalidis Architects.
"For the residents, the experience within Yarra One is one of immersive materiality and refined detail. Composed of clean lines, subdued lighting, green outlooks and rich textures, both the shared amenity spaces and the residences themselves offer a haven of calm and the warmth of a traditional home," adds Fender.
The amenities of the building echo those of a luxury hotel, with a concierge who will welcome residents' guests, arrange transport, receive parcels and secure dinner reservations, to name a choice few of the services available.
Yarra One also features a range of expertly designed spaces with a focus on wellness, helping residents maintain a healthy body and mind. This includes a dedicated wellness retreat with a state-of-the-art gym that looks out onto the greenery of the residents' garden, a yoga and dance studio with light oak flooring and a private spa terrace.
The amenities are natural extensions of the home, which also includes the dining room and library, presented with rich smoked timber floors in a fine chevron pattern, with soaring double- height ceilings.
Modelled after a finely detailed cigar box, there is also a wine room at Yarra One, which has been designed to reflect the prestige of the bottles contained within, with smoked oak floors, timber joinery and bronze accents.
The carefully crafted residences of Yarra One present a range of styles and plans to suit every lifestyle, and all finished with a refined approach to materiality.
From the fine grain of the chevron timber floors, to the luxury of the honed benchtops, each space is composed of surfaces which are not only beautiful to look at but exquisite to touch.
These beautiful homes have a warm and distinctive mood, with balanced tones and curated textures designed to provide a sophisticated canvas and an elevated experience.
Orientated to experience the full breadth of views through the enveloping floor-to-ceiling windows, the living spaces of each residence have been thoughtfully planned with designated lounge, dining and kitchen spaces.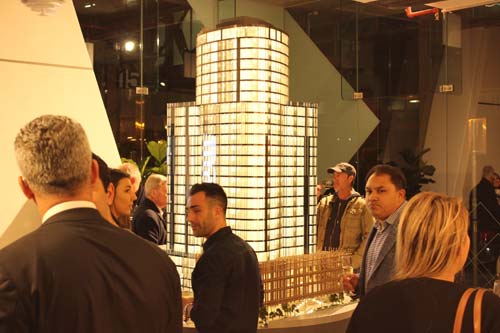 The clean design language of Yarra One continues on the rooftop, where circular shapes combine to create spaces to gather with neighbours around fire pits in a lush garden setting, surrounded by built forms which frame the breathtaking panoramic views of the city of Melbourne.
While offering a sanctuary for residents in this inner-city location, residents of Yarra One will also be uniquely placed to enjoy the vibrant and well-serviced South Yarra lifestyle at its best, complete with award-winning dining cafes, high-end shopping and leading schools in the surrounding area.
"There is an almost intangible classic quality to South Yarra. In the architecture of Yarra One, we've reflected this through a design language of pure geometry," says Fender. "Circular, elliptical and rectilinear forms combine to create a new building that is both bold yet welcoming."